When I heard Kathy Carmichael's humorous cozy mystery Diary of a Confessions Queen was being offered free on kindle for the first time, I knew what I wanted to feature for readers today! Carmichael lends such a delightful voice to all of her characters and story lines and her sense of humor tickles me. I'm never disappointed.
This free for kindle offer (through September 15th) is a great time to pick up a fun and engaging read that will be sure to satisfy.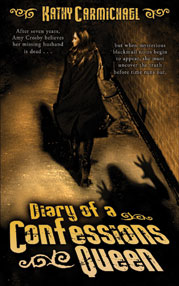 Here's the book blurb from the publisher:
Confessions writer Amy Crosby has put her life on hold for the last seven years after the disappearance of her husband, Dan. In writing for True Lies Magazine, guilt-ridden Amy takes on the abilities her fictional characters confess to, such as the time she thought she was psychic after researching clairvoyants.
With fatalistic acceptance of the craziness in her life, she uses humor to cope; but when the home Dan bought for them is about to be foreclosed, her only answer is his having him declared legally dead and using his life insurance policy. Her home is safe—that is, until she receives a blackmail note.
Equal parts mystery and humor, this novel is sure to keep readers guessing—and laughing—until the end.
Publisher's Weekly says, "Sprightly humor and eccentric characters invigorate this chick lit cozy from romance writer Carmichael…"
and Amazon reviewer Jeannie Z raves in her 5-star review: "Kathy Carmichael's book is a delight. I enjoy her story line, her humor, and her fresh voice. Here are two classic lines from Diary of a Confessions Queen.
'All I wanted was to be left alone so I could go hide in my bathroom and have the nervous breakdown I'd been delaying,' and, 'That was when I recalled that Gayla Mullen had always been the type of woman who talked in exclamation marks and italics.'
I highly recommend this whodunit. I love a book that makes me feel like I've made a new friend, and this one fits the bill."
Julianne C, another Amazon reviewer adds, "Carmichael has produced another quirky offering, while kicking the spook factor up a notch… the result is … a comical and entertaining mystery suitable for any lover of the genre.
Picture something along the lines of Inspector Clouseau, Steve Martin in Dead Men Don't Wear Plaid, with the spunk of Lisa Unger's heroine Isabel Raines (Die for You), rolled up into a lead character blessed with a wildly kooky imagination that adds fuel to her investigation."
Do yourself a favor this weekend and pick up Diary of a Confessions Queen right away! You can learn more about all of Kathy's books at her Amazon author page or visit her at KathyCarmichael.com!
Live the adventure!