Hooray!  THE READING ROMANCES CHALLENGE 2013 WILL FOCUS ON CLASSIC ROMANCE PLOT LINES  SETTINGS AND THEMES THIS YEAR!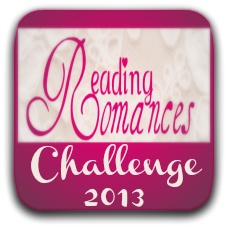 Nat has been busy prepping a new reading challenge and I'm excited take part again this year! I love the plan and the variety of involvement choices as well as reading challenges themselves. Check it out direct from her post at ReadingRomances.com
The Reading Romances Challenge is not about the amount of books you read, but the variety of titles you'll have read when the challenge is over! Our goal is to read a bit of everything in the romance bookish world and open our minds to new books we wouldn't usually read.
You can commit to read a number of books for this challenge during the year:
Level 1: 1-3 books
Level 2: 4-6 books
Level 3:  7-9 books
Level 4 : 10-12 books
Level 5: 13-15 books
Level 6: 16+ books
Or you might rather commit to read per month:
Romance Reader – 1 book per month
Romance Lover- 2 or 3 books per month
Romance Addicted – 4 or 5 books per month
And I love that she gave us all the themes up front for "easy" planning! Thanks, Nat!
JAN:    Marry me? –  Marriage of convenience. An arranged or forced marriage leads to love.
FEB:   Foreigners do it better! –  Greek, Italian, Spanish, French, Brazilian, Russians, sheiks! No English or North American heroes.
MAR:   The Avengers –  Man uses woman for blackmail, revenge, kidnapped, seduced etc .OR May The Games Begin! – two people fighting for the same prize and only one can win.

APR:    Beauty and the Beast  –  one of the main characters is physically marred in some way or a wounded hero, emotionally tortured.
MAY:    Summer Lovin' – a couple is stranded together and the enforced intimacy leads to more. OR Nursing Back to Health –  hero or heroine is injured or near death and the other saves his/her life by nursing back to health.
JUN:   Who do you think you are?  –  One of a couple isn't who he or she appears to be on the surface or pretending to be someone else or disguised.
JUL:    I'm BACK for good!  –  Reunited Lovers. Second chance or a first love rekindled story.
AUG :   Traditional or not!  –  time travel romance or a book with a love triangle.
SEP:   Bad Boys, whatcha gonna do? –  opposites attract. This can also be reversed with a bad girl/good boy.
OCT:    In Love with my Best Friend  –  a friendship leads to more. OR Beta Male Fest! –  any romance featuring a beta or gama male.
NOV:     Romeo and Juliet – a class difference sets a couple apart.
DEC:     Cinderella  –  rags to riches or riches to rags.
As for commitment level, I'll realistically call my self a reader and plan on 1 book per month (I have lots of reading and writing on my 2013 agenda, you know!). So here's my plan for the first quarter:
January: An Offer He Can't Refuse by Theresa Ragan
February: The Billionaire's Pregnant Mistress by Lucy Monroe
March: In the Highlander's Bed by Cathy Maxwell
I'll keep you posted on my progress and of course you don't have to commit to every month, but I hope you'll join us in with all this romance reading fun at some point this year!
Live the adventure!