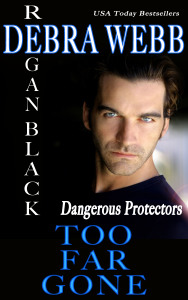 Too Far Gone by Debra Webb and Regan Black
Available January 22, 2015
Preorder today at Amazon!
USA TODAY bestselling authors Debra Webb and Regan Black want you to meet the next Dangerous Protector! 
Lauren Marie Woods just witnessed her agent being murdered. Now his killer wants her dead and the police want to pin a murder rap on her. Lauren needs the kind of help only the Guardian Agency can provide.

Protector Mike Stone is jaded when it comes to actresses and to Hollywood. But one thing is certain, Lauren Marie Woods is going to end up dead without his help. The only question is whether the former Navy SEAL can guard his heart from the beautiful actress.

Lauren will have to give the performance of her life to survive and, more importantly, she has to trust the man who makes her want far more than just his protection.
When no one else can keep you alive long enough to find the truth and no one else will fight for you, a Dangerous Protector is the man you want for the job.
~~~REVIEWS~~~
coming soon
~~~EXCERPT~~~
coming soon