SAFE IN HIS SIGHT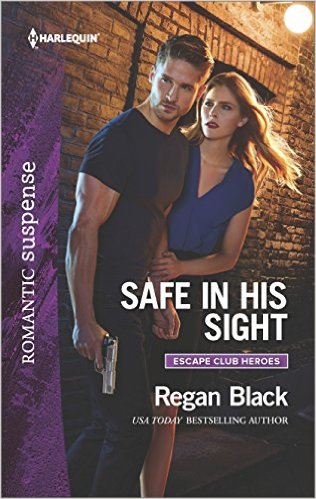 Available September 1, 2016
Amazon | BN | iBooks | Kobo | Walmart
USA TODAY bestselling author Regan Black thrills us with this adrenaline-fueled romance in her new series, Escape Club Heroes!
The stalker shadowing lawyer Julia Cooper's every move is vowing to ruin her life—unless she discloses information about a major criminal case. For discreet help, she turns to the shadowy Escape Club, where investigative brainpower and brawn are for hire. Mitch Galway, a firefighter on leave, becomes Julia's round-the-clock bodyguard. All sculpted biceps, sexy bravado and conflicted past, Mitch works overtime to uncover the identity of the person hunting her. But as they track the creep getting way too close, Julia must share more of herself with the intriguing man protecting her…which puts them both high on a lunatic's hit list.
~~~Reviews~~~
"With well developed characters and a story that will hold you to the edge of your seat, Regan Black has once again created a world of shadows and intrigue with the spice of romance!" – jwreinhold, Amazon reviewer
"Black seamlessly blends romance and mystery, infusing enough tension to heighten the suspense. Filled with heartbreakingly tender moments, this story is both touching and entertaining." -RT Book Reviews
"I highly recommend reading this series…" -Melody-Rose, Amazon reviewer
"I enjoyed this story immensely, it had the suspense built up well, the menace constant and deadly, the danger palpable. The attraction between Julie and Mitch was instant but grew deeper with time, giving it credibility, making their budding feelings tangible, giving a few swoon worthy moments towards the end. A fine work of romantic suspense, setting up the stage for the new series I will look forward to." – Books and Spoons
"I LOVE REGAN BLACK!!! There, I said it…Regan takes this story to another level of intrigue, with the couple, the families and the reader all involved in this cat and mouse game between the stalker and his prey. I loved every minute of this story…" -Gloria, Sr. reviewer for Paranormal Romance Guild
~~~Excerpt~~~
Chapter 1
The crisp autumn breeze of a clear, late September day kissed Julia Cooper's cheeks as she exited the Marburg Law Firm. It still gave her a happy thrill to know she belonged here in this historic limestone building with the impeccable Philadelphia-proper address.
Once again, as she walked up the street toward the Liberty Bell Center to have her lunch, she startled passersby with her persistent smile. Despite her valiant efforts, the expression couldn't be muted when she was out of the office. It was a side effect of being unexpectedly added to the major criminal case old man Marburg himself had just picked up.
State and federal authorities had been working for over a year to crack open a highly organized car-theft ring operating out of the docks on the Delaware River. The FBI had Danny Falk, a man purported to be one of the higher ranking locals in the operation, in an undisclosed safe house. Julia hadn't recognized the name, only that Falk apparently had enough clout or money—or the right connections—to have Marburg canceling two of his three weekly golf games.
She found an empty bench in a swath of sunshine and opened her lunch bag, pulling out her usual blend of fresh salad greens topped with shredded chicken and a light drizzle of dressing. Eating lean and healthy in law school might have made her a little boring, but it had given her an advantage over her boozing and pizza-loving peers. The advantage carried over to her demanding job. She dug into her meal while she skimmed local and regional headlines on her phone. At a prestigious firm like Marburg, it paid to stay on top of current events.
The chime sounded for a text message and she swiped her screen to check it. The number wasn't familiar, though the area code was local. Her assumption about a wrong number evaporated instantly.
Hello, Julia. Are you having vinaigrette or ranch on today's salad?
More than a little uncomfortable, Julia returned her fork to the bowl, glancing around for the person messing with her. None of her fellow associates at the firm cared how she dressed a salad enough to find out even for the sake of a prank. They all thought she was odd for leaving the building most days to eat outside. The true benefit of taking her lunch break in the park was the daily boost of sunshine, another rare commodity for a new hire at Marburg.
Ignoring the juvenile stunt, she resumed her lunch and headline search.
You look better in blue. And I prefer the skirt.
This text message arrived with a picture of her in yesterday's charcoal skirt and white sweater.
A rush of nerves skated over her skin. Who had been watching her and how had she missed it? She forced herself to chew and swallow the peppery greens that had turned to tasteless mush in her mouth. Quickly she packed the remainder of her salad and prepared to head back to the office.
Don't go. I'd like us to be friends.
Fat chance, starting off like this, she thought. Knowing better, she sent a reply. Who are you? What do you want?
Who I am is irrelevant. I want what most men want when they look at you: insider access.
What did that mean? Was that some sort of sick innuendo? Her hands trembled. She lowered them to her lap to hide her reflexive fear. Glancing around, she searched again for the jerk behind this ill-mannered trick.
Let's take a walk, Julia.
She refused to play his game. Pulling her tote close to her side, she leaned back on the bench and stretched out her legs, pretending to watch a group of school kids having fun on their field trip to the Liberty Bell Center.
I said walk. You should cooperate with me. Your choices today will have long-term consequences.
She ignored those texts. Another arrived, this time a photo of her moments ago, sitting on the bench, eyes on her phone eating the salad that was now souring her stomach. She followed the angle of the picture, frustrated when no one seemed to have any undue interest in her.
I'm walking, Julia. Get up and join me.
Stubborn and feeling a modicum of safety among the numerous people in the park, she remained on her bench. The phone was blissfully quiet for several minutes. Maybe he'd moved on to someone willing to satisfy his bid for attention.
You don't want to be late.
He might know about her lunch hour habits, but he couldn't know anything about her wants. She spotted a policeman on patrol and gathered up her tote. Hoping she wasn't being too obvious, she aimed that direction.
The cop is a mistake. Talk to him and he'll die as quickly as the other witnesses.
She stutter-stepped at that message as her gaze raked wildly over the people in the park. There was only one local case with witnesses who had dropped dead within days of cooperating with the authorities: the Falk car-theft ring. She changed direction, pausing at the next trash can, making sure the cop moved by without any exchange with her. This time as she looked around, she saw a man in an orange ball cap with the city's hockey team logo standing a few yards behind her. Her heart pounding, she raised her phone at him and pressed the camera icon.
The man in the cap didn't react. Maybe she'd guessed wrong and he was unfortunate enough to be the object of her swelling paranoia. She crossed at the light with a group of pedestrians, picking up her pace as she neared her building, thankful she didn't have far to go.
Relax, Julia. I need you alive.
She could hear the unwritten threat, for now.