Reluctant Hero, co-written with Debra Webb will soon be available from Harlequin Intrigue!
This story stars Parker, who helped his friends Rush (Investigating Christmas) and Sam (Marriage Confidential) through their recent adventures. He needs Becca's help when he learns someone has started hunting the men he served with in Iraq.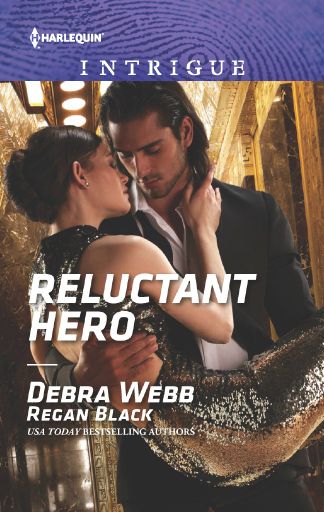 From Chapter One:
Becca opened the door without looking through the peephole and found herself face-to-face with the man she'd been daydreaming about—Parker Lawton, accused thief. For a moment she gawked at him. She decided the photographer had been a hack to only catch the glint in his eyes. The man's allure drew her in despite his casual khaki work pants, faded blue zippered sweatshirt and black ivy cap. In her heels, she was nearly eye level with him, and the intensity in his dark chocolate gaze muddled her thoughts.
"Pardon me—"
She pushed the door closed on his greeting and he stopped her, wedging his booted foot into the space. "You're not welcome here." She gritted her teeth and put all her weight into the effort of squishing his foot.
"Steel-toed," he said calmly. "Can't even feel it. I just want to talk."
"Not tonight. I'll call you tomorrow."
"Pardon my skepticism. You haven't returned any of my calls or emails. Can I have five minutes?"
"No." She shoved at the door again. "I'm on my way out."
"With this guy?"
He stuck a cell phone through the space and showed her a picture of her date at the elevator downstairs.
"What did you do?"
You can order Reluctant Hero today at your favorite bookseller!
Enjoy this peek behind the scenes about what it's like writing with my amazing friend and mentor, Debra Webb!
Stay tuned for more behind the scenes fun, including a Facebook live broadcast and giveaway at 2pm EST on October 17th!
Feel free to post a question below and I'll answer it on the live broadcast.
Live the adventure!

11Oct2017