It is a pleasure to host a friend and guest author Mary Cunningham and feature her newest release, Margaritas, Mayhem, & Murder!
About the Book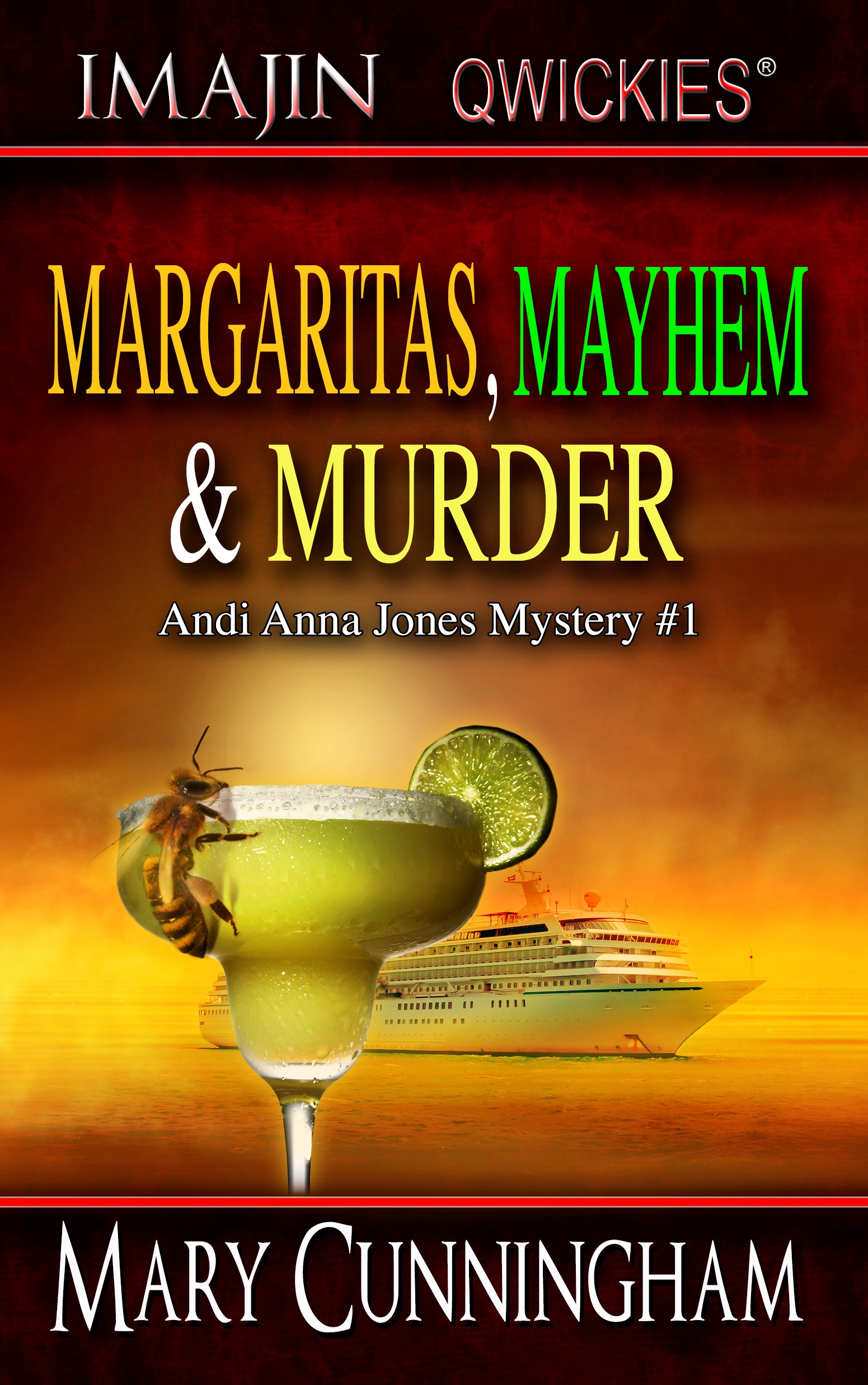 Andi's step-mother is a real piece of work! But is Ruby a murderer?
Andi Anna Jones, so-so travel agent/amateur sleuth, puts aside her resentment of her father's widow and books a 60th birthday cruise to Cancun for Ruby and three friends. Never does Andi imagine the cruise will lead to the murder of a has-been lounge singer—or that Ruby will be the main suspect.
Flirting with more than danger after arriving in Mexico, Andi connects with the charming local sheriff, Manual Rodriquez. After an embarrassing night involving the sheriff, too many margaritas, and a Mariachi band, a chance to check out an eyewitness to the murder leads her to Las Vegas.
In Vegas, a mysterious meeting in the Bodies Exhibition, a body preserving in the prep-room, and an evasive owner of a dance studio, give Andi clues to help Ruby. But when Andi is mercilessly drugged and locked in a storage room, she realizes dear old step-mom isn't the only one in jeopardy.
Enjoy an Excerpt
"Tell me what's going on. Slowly, and about fifty decibels lower. Why are you in jail?"
"Well, honey, I'm not sure. Oh, I know what they're saying, but I didn't do anything. I swear. Well, at least nothin' I can remember. You see, it all started on the cruise ship dance floor, quite innocently, mind you."
"What started?" I located my slippers and shuffled to the bathroom.
"As I was saying before you interrupted, it all started on the dance floor. You know, they play such romantic music on these cruises like, Shadow of Your Smile and Mandy. Oh, don't you just love Manilow? Well, anyway, Lenny and I were having a lovely time, and he was obviously enamored, if you catch my drift."
I knew this was a mistake. Still, I asked, "Lenny who?"
"Why, Lenny La Mour, of course!"
I drew a blank.
"Lenny La Mour," Ruby huffed, "The famous Las Vegas performer? He's the reason I picked this cruise. He had his own humongous nightclub and everything. Oh, Andi Anna, don't tell me you've never heard of him. Why, women my age swoon at the sound of his voice. But, I suppose your generation only has eyes for that Bon Ami person."
"Uh, are you, by any chance, talking about Bon Jovi?"
"Well, you know who I mean."
Ready for more? You can pick up your copy of Margaritas, Mayhem & Murder by Mary Cunningham today in Ebook or Paperback:
Amazon | BN | Smashwords | Google Play | Kobo
An Interview with Mary Cunningham
How do you name your characters?
MC: In some instances, I use names of ancestors; especially in my children's time-travel series. POV character, Gus (Augusta Lee), is named after my great-great grandfather, Augustus. In some cases, I get to know the character a bit before they get their final name.
Andi Anna Jones went through many transitions. She began as N. Diana, then Ann Diana, Andeanna, and finally, Andi Anna Jones; the best, by far, imo.
The name, Manuel (Manny) Gonzales just seemed to meld, perfectly, with the Aztec god of a sheriff whose mere appearance causes Andi's face to turn the most incredible shade of cranberry.
The other characters seemed to name themselves due to their "special" eccentricities. The lawyer, Bert, appeared with a big sign on his forehead. "My name is Bert." Not really, but his personality called for the name.
Ruby, Andi's stepmother and one of my favorites in the book, evolved from her paramour's fondness for referring to her his little gem. As I got into her character, I pictured Flo, of the old "Alice" series; Polly Holiday of "Kiss my grits" fame (really dating myself, here!), her voice, hair, and southern accent. That made it easy and fun to write Ruby's dialogue.
The twins, Cloris and Doris? I'm not really sure about them. Doris popped up, first, but what rhymes with Doris? Cloris, of course. Besides, when you get to know them, the names fit perfectly.
Do you like to plot or do you prefer to let the characters take the reins?
MC: I'm definitely a "pantzer". Guess it goes back to 7th grade and my loathing when it came to outlining. My brain couldn't then, and still can't grasp the concept. I much prefer to pull characters, scenes, and dialogue out of the air.
For instance: When beginning my children's series, Cynthia's Attic, all I really knew was that best friends, Cynthia and Gus, would discover a magic trunk in the attic that would lead them to parts and times unknown. It wasn't until the second chapter, when I sat back and read a sentence I'd just typed, "Clara, is that you?" that I knew where the story would lead. The whole book fell out in front of me. I'd say that's letting the plot and characters take the reins to extremes! What can I say? It's how I roll.
How can fans learn more about your current and future books?
MC: So glad you asked! Andi Anna Jones Mystery # 2 is in progress. Readers can subscribe to my Blog and website: https://www.marycunninghambooks.com, my Amazon Author page, https://www.amazon.com/Mary-Cunningham/e/B002BLNEK4, or AllAuthor site, https://allauthor.com/profile/marycunningham/
More ways to keep up with Mary online:
Facebook | Twitter | Pinterest | LinkedIn | Goodreads
About the Author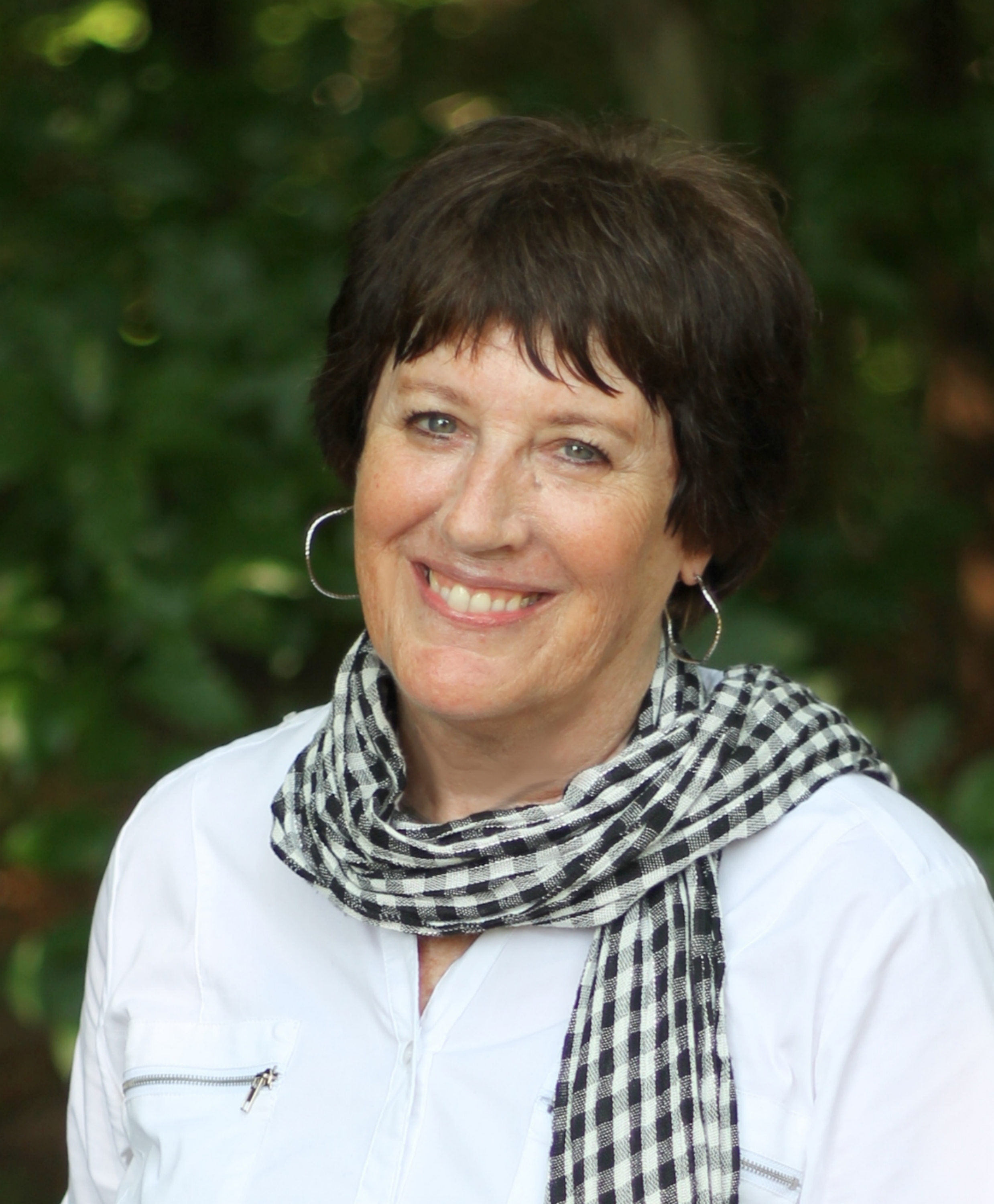 Mary Cunningham, grew on the northern side of the Ohio River in Corydon, Indiana. Her first memories are of her dad's original bedtime stories that no doubt inspired her imagination and love of a well-spun "yarn".
Childhood experiences, and a recurring dream about a mysterious attic, inspired characters, Cynthia and Augusta Lee, for her award-winning middle-grade series, Cynthia's Attic. The setting is in her childhood home in Southern Indiana. Family stories and ancestors comprise the storylines. There are currently five books in the series: The Missing Locket, The Magic Medallion, Curse of the Bayou, The Magician's Castle, and Legend of Lupin Woods.
Through a horrifying stint as a travel agent and more rewarding experience teaching travel and tourism, the character, Andi Anna Jones, travel agent/amateur sleuth, inspired her latest adult mystery series. She's currently writing Book # 2 of the series, along with another middle-grade series, The Adventures of Max and Maddie, a historical time-travel.
Cunningham is a member of The Georgia Reading Association, and the Carrollton Writers Guild.
When she gives her fingers a break from the keyboard, she enjoys golf, swimming and exploring the mountains of West Georgia where she makes her home with her husband and adopted, four-legged, furry daughter, Lucy.
Live the advenure!

14Dec2017