I'm so excited to help spread the news about RAGE! The newest installment in the Faces of Evil thriller series by USA Today Bestselling Author Debra Webb is available now. Do yourself a favor and grab your copy today. It's available on Kindle, Nook, or pick it up in paperback online or at a retail store in your neighborhood!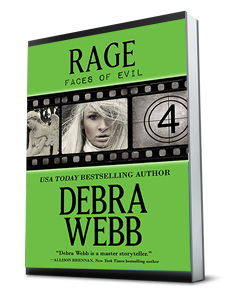 Don't wait until tomorrow. Make time to get your copy TODAY!
Why am I being so pushy? That's simple. RAGE is one of those 5 star, page-turning, can't-miss books. (Deb tends to write them that way).
Here's a bit more about RAGE:
"…A rage…that nothing can allay, nothing but blood…" ~William Shakespeare
Jess Harris returned to her Alabama hometown of Birmingham and started over. As a former special agent in Quantico's Behavioral Analysis Unit, there isn't much in the way of evil that she hasn't seen. Yet the blood bath she discovers in a quiet Birmingham bedroom community shocks even her. Amid the eerie echoes of the Charles Manson massacre, Jess investigates the cop's wife who was brutally murdered while her baby lay sleeping down the hall.
As the body count rises, Jess and her team scramble to determine if the murders are gang-related, a personal vendetta…or something else even more heinous. When Jess names a suspect that sends shock waves through the entire department, she discovers that the identity of the killer may lie with an autistic child who has gone missing. Jess races against time to save the child and to stop a final, horrifying act of rage.
Granted I read a wide variety of books, and romantic suspense novels and thrillers are always in my to-be-read stack. But this series takes the romantic suspsense/thriller genre to a whole new level with memorable characters and intense cases Jess and Dan must unravel, all the while dealing with their complex, ever-evolving personal situation.
I was hooked on this series from the first pages of OBSESSION, book one in the Faces of Evil series. The twists and turns of the case and the edgy chemistry between Jess and Dan kept me turning pages when I should have been doing any number of other things. That's always the hallmark of a great book, isn't it?
You can start with Obsession or start in right now with RAGE – the novels are written so you can jump into the series anywhere and enjoy a nail-biting adventure sure to keep you up past your bedtime. 


Still unsure? You can stop by any of the blogs on Deb's blog tour (going on now) to enter for great prizes or visit her Faces of Evil website for an overview of each book (OBSESSION, IMPULSE, POWER, and RAGE), amazing excerpts, character interviews and much, much more.
If you're already a die-hard fan of Deb's wonderful books and want to be first in line for all the extras and insider news, send a note to me on Facebook or twitter and we'll get you added to Debra Webb's Street Team!
Live the adventure! (and go pick up RAGE)