It's ebook release day for A STRANGER SHE CAN TRUST, the next adventure in the Escape Club Heroes series from Harlequin Romantic Suspense! I'm doing a happy dance all day long!!!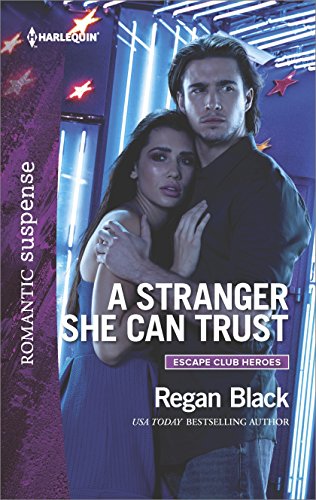 A Stranger She Can Trust , new today – pick up your digital copy today at Amazon | BN | iBooks or your favorite bookseller.
In USA TODAY bestselling author Regan Black's new Escape Club Heroes thriller, a guarded man builds a future with a woman without a past… Outside of one of Philadelphia's busiest nightclubs, a woman stumbles from her taxi. Beaten and bruised, Melissa Baxter is an amnesiac with a target on her back. Gun-shy, Melissa relies on a handsome hero to help her uncover who she really is.
Carson Lane—a paramedic with his own dark history—can't help but bring this beautiful, vulnerable woman under his wing. Still reeling from his partner's murder, he's no stranger to risk. But as he and Melissa begin unraveling the mystery of who she really is, Carson realizes falling in love could be the biggest risk of all.  Click for an excerpt…
My editor and the Harlequin team deserve a big shoutout and Thank You for everything from day one on this series. It definitely takes a 'village' to raise a book from proposal to published and they rock!
Many thanks and hugs to my fabulous newsletter subscribers for the ongoing support and review requests. I love sharing these stories with you first! And a special shoutout to Jo Ann R. who has spoiled me with so many amazing graphics and posts across social media.
My ongoing gratitude to Just Romantic Suspense (May 1 post and giveaway), A Girl and Her Kindle (May 1 feature), and the Romance Dish (May 8) for helping me spread the word about A Stranger She Can Trust!
And a big Thank You to Goddess Fish Promotions for organizing another super blog tour. (each of the tour stops are listed below). Each host asked me to share something special, ranging from fun interviews and guest posts to unique excerpts from the story, so be sure to join me at each stop along the way.

May 1: Books, Dreams,Life
May 1: Long and Short Reviews
May 8: Christine Young
May 8: Stormy Nights Reviewing and Bloggin' (review only)
May 15: Lynn Crandall
May 15: Hearts and Scribbles
May 22: Megan Morgan
May 29: T's Stuff
May 29: EskieMama and Dragon Lady Reads
June 5: Sharing Links and Wisdom
June 5: Rachel Brimble Romance
June 12: Harlie's Books
June 12: Archaeolibrarian – I Dig Good Books!
June 19: Book Lover Promo
June 19: Booklove (review only)
Live the adventure!

p.s. If you love the feel of the book in your hand, no worries – the paperback will be on store shelves soon, with an official release day of May 9th!
p.p.s. Never miss a new release! Newsletter subscribers get early access and so much more. Use the form on the right to sign up now, or see all the benefits on the Perks page!