Did you get a kindle or other eBook reader this holiday season? Whether you treated yourself or someone treated you – congratulations! I was the happy
recipient of a kindle last year and I'm just as thrilled with it today as I was then.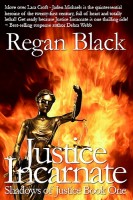 (Shameless Plug: if you'd like to load up your new eBook reader with a few great paranormal romance novels, look for Regan Black titles on kindle, Smashwords, or AllRomanceEbooks!)
The best part of an eReader, in my opinion, is the fabulous world building you can do – by building your own library.  The instant availability of so many books, in any genre, is beyond compare. Some libraries are even working with eBooks now – which is terrific news for readers!
Plus, with an eReader, you can take the world building you love with you wherever you roam.
Got a collection of favorite paranormal romance novels by any number of paranormal romance writers? You can have them all at your fingertips, to suit your reading mood from one moment to the next. Some days I'm in the mood for paranormal romance by Kresley Cole, other days I need a dose of sexy, historical romance from Sabrina Jeffries.
Of course, the world building I do with my kindle covers a wide range of indie authors as well as traditionally published authors and I hope you'll find the same true of your experience with kindle or any other eReader.
The longer I have my kindle, the more helpful and useful I find it. I uploaded my own books – not to be narcissistic, but resourceful!  When I need to verify a description or a reference from any novel in the Shadows of Justice series, I can open the book and do a search. It's great – and usually easier than pulling the paperback off the shelf, or wading through my file of notes and notebooks.
I believe the kindle and other eReaders have created a wonderful opportunity for paranormal romance writers and readers alike. Enjoy the journey through the vast and available world building now at your fingertips!
Live the adventure!