Welcome to Menage A Blog where the reader always wins! This is Stop #8 where you can indulge in an adventurous escape with a free ebook of my latest urban fantasy novel: Tracking Shadows.
Stop #7 was Judith Gaines with Perfect Copy: A chilling thriller with a premise sure to strike fear in your heart. With escalating tension on every page, some seriously twisted characters engage in an even more twisted plot. Fans of dark thrillers (and sexy scientists) will enjoy this novel.
Stop #9 will be Jackie Chanel with Untitled*: This story proves you don't have to play the song life gave you, but you can, and maybe you should, improvise.  An epic tale about Aiden (one hot artist) who bucked expectations to live out the soundtrack of  his dreams.
But if you're a reader who believes the ideal vacation is time spent in your favorite spot with a stack of books and ebooks, then you're here for Tracking Shadows and that super-secret Smuggler's Stash you've heard rumors about, right?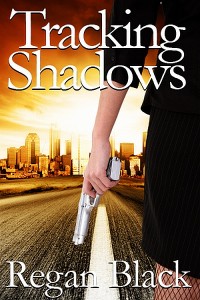 Get your FREE Tracking Shadows ebook when you leave a comment below. Be sure to include your email address and tell me what you'd miss most if the government outlawed caffeine, sugar, and nicotine.
Slick Micky is the king of Chicago smugglers with a nasty street rep that covers up a big heart and serious protective streak. What kind of woman could possibly see through the rep to the man inside?
Trina! She's an assassin with super skills and dark past and their adventure is packed with heat, conflict and ~ hold on! You'll find no spoilers here, not when you're about to get a free copy of the whole story!
Now, the super-secret Smuggler's Stash is a prize package worthy of Slick Micky himself. It includes all the 'contraband' you need for a good reading escape: a Tracking Shadows tote bag stuffed with a t-shirt, coffee mug, gourmet coffee, chocolate covered espresso beans, bubble gum cigars and a surprise or two.
(The winner will be drawn at the end of Menage A Blog and the prize ships to USA, Canada, Mexico only)
When you leave a comment here for your free copy of Tracking Shadows, you're automatically entered for the Smuggler's Stash prize package too. (and the Menage A Blog kindle drawing)
To increase your odds of taking home the Smuggler's Stash, visit The Bookish Snob for a swoon-worthy excerpt from Tracking Shadows. Leave a comment there with the phrase "shadow kiss" for a bonus entry.
And you can score two more bonus entries for the Smuggler's Stash when you visit Laurie's Thoughts and Books R Us Online. Just add a comment at each site with the phrase "I love 2096"!
Live the adventure,

Please show your appreciation to the Menage A Blog organizers and all of my amazing review sponsors listed in the sidebar!
And now it's time to leave your comment (include your email) so I can send your FREE copy of the Tracking Shadows ebook today and add your name to the drawing for the Smuggler's Stash! (will ship to USA, Canada, Mexico only)