Welcome to the Christmas Wishes blog hop sponsored by 3 great Virtual Tour companies who have joined together: Book & Trailer Showcase , Coffee Beans & Love scenes, and Full Moon Bites.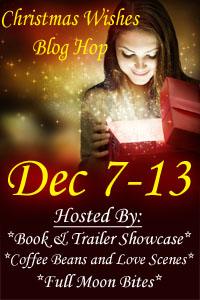 I love the holidays, that special time of year when you 'shop til you drop' to find that perfect gift for that special someone! One year I found a signed picture of Gordie Howe (the hockey player) for my husband and it was all I could do not to give him the present early. The memory of his face when he unwrapped it still makes me happy.
Use the following rafflecopter form to enter to win the prizes here: One of three holiday anthology ebooks, A Season For Romance, the Tracking Shadows t-shirt, or the travel mug and 2096 contraband. (contest is open INT'L)
Here are the next three blogs on the hop:
 Dani Harper, Paranormal Romance Author, INTL
Be sure to check out the rest of the blogs on this jam-packed holiday hop to make your Christmas Wishes come true (for you or a friend) and use this next rafflecopter form to enter the GRAND PRIZE giveaway of a Nook Glow or Kindle Paperwhite or $90 gift card! a Rafflecopter giveaway
Live the adventure!