On June 15 the Night Owl Reviews Summer Fun scavenger hunt kicked off with all of the appropriate fanfare! This event is such a great way for authors and readers to connect and I'm excited to offer a Matchmaker gift basket this time around.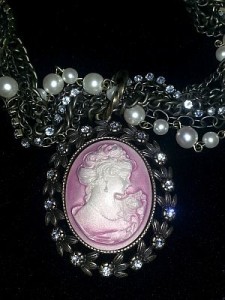 When you visit the link above, or click on it in the graphic on the right, you'll find the entry form for this fun event at the Night Owl Reviews website. You'll also be able to cruise through all of the author prize baskets and discover new authors or new releases by a favorite author.
There are some wonderful giveaways up for grabs like the kindle paperwhite sponsored by Dani Harper to gift cards to themed baskets.
One lucky 'hunter' will win the Matchmaker prize package which includes this stunning (trust me, it's gorgeous in person) vintage-inspired cameo necklace along with a Matchmaker's Mark totebag, assorted goodies from the Charleston area, and an Amazon gift card -to load up that kindle paperwhite if you should win that too!
Be sure to get your entry form filled out, share tweets with all your reader buddies (use the #NORSummerFun hashtag), leave a comment and chat with other participants, and stay tuned to Night Owl Reviews for announcements about interactive chats on the site during the Summer Fun event!
Live the adventure!