It seems many authors are asking their fans if they like to read stories set around Christmas or other holidays.  Based on November and December releases, which usually include several novels with holiday elements, I'd say publishers believe readers like themed and well timed stories.
While I don't mean to jump on a bandwagon, I'd love to hear if you're yay or nay on the holiday book idea.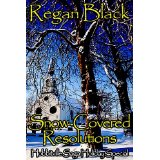 Personally I do enjoy reading and writing books with holiday elements of paranormal romance, as well as other genres. In historicals, one of my favorites is Eloisa James duchess series An Affair Before Christmas. To me, it's a treat to see what holidays were like in a different era.
A quick search for paranormal books with Christmas themes turned up this discussion on Goodreads. And of course Amazon has a search for everything (thank goodness) and here is what turned up.
This is the time of year when I find there's plenty of inspiration to add some holiday elements to the paranormal romance novel I'm currently working on.
Except my manuscript in progress is set in autumn, in Chicago, about 86 years from today. (More on that next month)
But it's always entertaining to see how paranormal romance writers layer in different holiday elements of paranormal romance novels. I think paranormal romance writers have the most freedom (as long as we're true to the key rules and elements of our paranormal romance novels). We can choose from bah-humbug alpha hero vampires to witchy alpha female heroines who go all out decking the halls for children in her family or community, and everything in between!
There's unlimited potential for holiday elements in paranormal romance novels and I hope you find a few to enjoy this season!
Live the adventure!