How exciting to bring you an interview and giveaway from Diana Duncan today! Especially in conjunction with the Nurture Your Books Celebration to promote global literacy! I'm a fan of Diana's books and she's recently launched two wonderful new titles sure to make you swoon!
First some background on Diana:  When her dreams of becoming a ballerina were quashed by early-onset klutziness, Diana Duncan took up the safer vocation of writing. Her first thrilling masterpiece—written in orange crayon—was titled "Perky the Kitten," and became an instant bestseller with her grandparents.
Her childhood growing up as a military brat gave her ability to leap into a conversation with anyone, anywhere, anytime…and she always discovers a new friend in the process. This gift of gab perfectly equipped her for a career that involves making stuff up.
Di is famous for using seven words when one will do. She wields smart-assery like a samurai sword, and will be the first to volunteer in a catastrophe. Of course, she was probably the one who caused the catastrophe. She's fiercely loyal to her friends and family…but in the event of the upcoming zombie apocalypse, she won't hesitate to use them as human shields.
She loves her job as an author, and claims writing is the most fun she's ever had while wearing her sock monkey pajamas. She also enjoys gardening, cooking, and adopting abandoned curbside furniture to refurbish into treasures.
Diana published six award-winning books with a traditional print publisher before going rogue with Indie publishing.
And now, she's answered a few questions for you!
Diana, what is your favorite 'place' in the world you built for Sword of the Raven?
Oooo… Archer's Nightclub, "Starry Night!" Archer is one of Delaney (the heroine's) best friends, and he's not at all what he seems. In fact, he's not even human, but she's unaware of that. When the story begins, Delaney doesn't realize the Supernatural plane exists.
Starry Night sits over the underground labyrinth of Portland, Oregon's infamous Shanghai Tunnels, which are real—and reported to be haunted. Built in the 1800's, the dark web of interconnecting tunnels led from the basements of many downtown hotels and bars to the waterfront of the Willamette River.
Trap doors, called "deadfalls," in the floor of these establishments allowed unsuspecting patrons to be dropped into the tunnels below, where they were dragged to waiting ships and forced into slavery as laborers and prostitutes.
Tours of the tunnels are now available where you can still see the bone-chilling sight of mountains of shoes taken from the captives, leaving them shackled in cages in their bare feet—because the human traffickers strewed the tunnels with broken bottles in case their prisoners attempted escape.
In my book, the tunnels' centuries of clashing energies have created a strong Power Node of Magic. Unbeknownst to anyone, Archer is running a covert "underground railroad" out of his club to aid fleeing Supernaturals. A lot of this is not revealed in this story, but is alluded to. As the series progresses, we'll learn more. So you now know insider secrets nobody else does!
Aboveground, Archer's club is spectacular. I'll let you experience it from the heroine's point of view:
From outside the club, a throbbing base beat pulsed through the double glass doors. Delaney pushed them open, nodded to the duo of security guards, then ascended a spiral chrome staircase and strolled into Starry Night, letting the music and mystical atmosphere wash over her. Wash away fear and doubt.
It was like walking into a Techno vision of Heaven. The huge dance floor was made of the same thick, clear glass as the viewing platform over the Grand Canyon, and suspended a third of the way up between three open stories—giving the feeling of floating mid-air in a vast starlit universe. An acrophobic would freak out, but Delaney loved it. Twinkling crystal lights studded midnight blue walls above and below the floor, where hidden fog machines billowed vaporous clouds. Round glass pedestal tables with clear Lucite chairs bordered the room, each table topped with frosted light pillars of varying heights.
She wove through the undulating crowd to the bar, a gravity-defying sculpture of wavy lit glass and chrome, and smiled at the bartender. "Hey, Natiri. How's it going?"
Wow, that sounds fantastic, I love it! Would you please tell us why you write your specific genres of romance?
I actually write in 3 different subgenres: Paranormal Romance, Romantic Suspense, and Romantic Comedy. But my characters share certain similar traits. My heroes are flawed, have well-developed senses of humor, are protective of the heroine without smothering her, and always consider her their equal. My heroines are strong, smart, snarky, and always willing to kick the hero's arse when he's acting like one. <grin>
You will never, ever see one of my heroes behaving like an overbearing, manipulative jerk, or one of my heroines sniveling in a corner while waiting for the hero to rescue her. I write them because those are the types of people I love to read about myself, and because over the long months of crafting a book, my characters become beloved friends. Who wants to hang out with jerks and wimps? LOL
Diana, do you have a playlist or sound track for each book or to help your writing process?
Always! Music totally puts me in the mood for the story I'm creating. For Sword of the Raven, I had something completely different planned…haunting and ethereally Celtic. Until Delaney ambushed me with her love of 80's tunes.
About the 3rd time she busted out humming or singing an 80's hit, I finally caught on to her penchant, and made myself the appropriate soundtrack. You'll see 80's music pop up throughout the story, with Bon Jovi's "Blaze of Glory" playing a surprising, pivotal role. <grin>
Rowan and Delaney's song turned out to be U2's "With or Without You." There's a scene in the book where that song brings me to tears, and I'll never hear it again without thinking of it.
Oh, I love that song – brings back all kinds of memories! 😉 Can you please tell readers what amused you or scared you most while you were writing this book?
My characters do what they want, regardless of what I think. Rowan constantly amused me with his droll humor and matter-of-fact acceptance of Delaney's sass and strength. For a really Alpha guy, he never reacted the way I expected him to when she challenged him. The more she got in his face, the more he admired her.
What scared me most about this book was I had no idea where I would market it when it was done. It's the book of my heart, and the thought of it being rejected over and over terrified me. But I couldn't not write it. I was compelled to write it.
What did you love, hate, or find most challenging with the characters of this book?
This whole book was so far out of my comfort zone, I was terrified the entire time I was writing it. I had the initial idea years and years ago, but I never thought I had the chops to pull off such a complicated story. So I'd set it aside for "some day." When "some day" arrived, it was scary as hell.
It was challenging in so many different ways, but the most challenging was the fact that Delaney and I share a background of childhood abuse. I ended up opening my soul and pouring it out onto those pages. I cried more writing this book than any other. Delaney's ultimate triumph over her past was also my triumph. It truly was a labor of love.
Your ability to put that emotion on the page is one thing I love about your books and your writing. Is there any one question you wished people would ask about your book?
Yes! "Who did your cover?"
Because then I could say, "My oldest daughter! Isn't she talented?" *VBG* And in a terrific new development, she's decided to write Young Adult novels of the Supernatural world she helped me brainstorm when I was writing Sword of the Raven. So we'll be working together! 🙂
Oh, that's wonderful news for readers! 
Regan, thank you so much for graciously hosting me on your blog today. I LOVED answering your thought-provoking questions.
My pleasure, Diana! Thanks for taking the time today to give us some insight into your writing process and your books.
Here's more about Sword and the Raven:
When destiny calls, you don't hit ignore…
Delaney Morgan's ho-hum life begins to fray around the edges when her cop brother is framed and imprisoned. Determined to exonerate him, she starts poking her nose where it doesn't belong. Things go from extra-ordinary to extraordinary with her discovery of Mr. Tall, Dark, and Naked washed up on a deserted Oregon beach.
Rowan MacLachlan's no ordinary man. He's a semi-Immortal Highlander. A Water Mage, a Supernatural Enforcer…and since the slaughter of his entire family, Chieftain of his Clan. Recently escaped from the clutches of the Sorceress Cearde, he's drawn to Delaney's intense, newly awakening Powers. She learns her brother possessed similar Powers, and his "situation" is entangled with the magical forces he tried to shield her from.
Pulled into an epic battle of light and dark…with a kick-ass pair of boots and a Bon Jovi inspired battle cry…Delaney vows to help Rowan avenge his family, and free her brother from the dark forces holding him captive. First, Rowan must teach her to control and wield her new Magic.
When passion flares between mentor and student, so do their Powers. With Delaney's help, Rowan plans to vanquish the evil bitch who killed his family. Even if it means betraying the woman he's come to love.
One of them may be required to make the ultimate sacrifice.
Can love really conquer all? Betrayal. Evil. Even death?
Delaney's about to find out. Because she's destined to be the Sword of the Raven.
And for Diana's hot new contemporary romance series try Deal with the Devil:
When Irish eyes are smilin'…beware! Because trouble—and love—isn't far behind!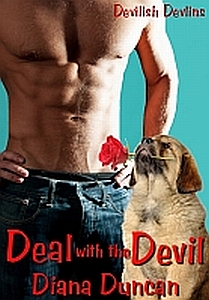 Paradise for software designer Cynthia Wagner means uninterrupted solitude to invent a brilliant video game, and save her job. But renovations on her city apartment force her to seek refuge in a temporary rental in the 'burbs.
The promised Paradise morphs into Purgatory when she meets her new neighbor, a deliciously tempting Irish rogue sporting a wicked grin and to-die-for body. Worse, the handsome bachelor has noisy, drooly, havoc-creating baggage on his hands for the summer… rambunctious five-year-old twin nephews, a baby niece, and the kids' yappy dog. Rory Devlin is a dangerous distraction—and he's hiding a naughty secret.
Jackhammers and contractors would have provided more peace and quiet.
Stuck in the Suburbs of the Damned with Mr. Uncle-Turned-Mom and his wild menagerie, Cynthia struggles to meet her deadline. But she struggles more with her undeniable attraction to her devlish-ous neighbor.
Could it be that what Cynthia has mistaken for hell is actually the heaven she's been searching for?
Giveaway Details: Diana is graciously offering one lucky reader a digital copy of Sword of the Raven. To enter the giveaway, just leave a comment on this post (be sure to include your email address). The winner will be selected via Random.org on November 21st.