Most people have two questions for me lately. 1) When will Mira's book be out?  (December 2011) and 2) Why don't I ever call myself an urban fantasy author?
It's a valid question since I write a series of novels set in the future, starring kick butt alpha female heroines, (par for the urban fantasy genre).
My answer is simple. Urban fantasy didn't exist when I first got published. The joke with Justice Incarnate was that I'd written a futuristic-action-adventure-paranormal-romance-thriller. Talk about crossing your genres!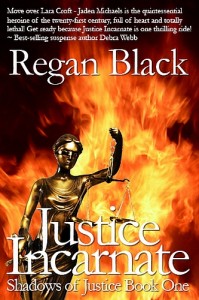 For marketing we settled into the paranormal romance groove, just because it didn't take five minutes to say. And because we thought women were my primary audience for that series. (We were wrong as the Shadows of Justice series turned out to be a big hit with men who enjoy action-adventure and sci-fi too).
The real point is no matter what the tags or labels on the finished product, no matter where it's shelved, readers have come to expect something paranormal in all of my stories, and usually a little romance too.
And I've learned the hard way that's how it's likely to stay.
I'm forever telling people to discover and play to their strengths. My kids are probably sick of this message, my husband too. But it's the truth.
My recent efforts to branch out, to explore story ideas with contemporary settings with absolutely normal people have failed miserably.  Trust me on this. It's been an epic fail.
I was humming along with a cozy mystery, the most para-normal thing about it was a character's pink hair, and I could feel the need to toss in a paranormal element. Or two.
Shouldn't there be a ghost -or at the very least a faked ghost? When it started to feel like a bad Scooby Doo episode I put that story away. Sure I liked the characters, but I didn't like the plot without the little something extra I've come to love about the paranormal romance genre.
I hope readers will agree when the next Regan Black paranormal romance novels are released. (Mira's novel in December 2011, book two in the Matchmaker series early 2012).
Live the adventure!