February! The month for lovers, romance, and everything sigh-worthy about the romance of falling in love. It's also a great time to be an author, blogger, or reader with so many great blog hops and reader events going on! 😉
When Nikki invited me to the Naughty After Dark blog hop, I jumped on it! (I love doing online events with her) Then I realized I had to find a naughty or simply decadent prize to share with my readers!
(Don't worry, I thought of something fun and decadent… giveaway details are below)
While I hope you treated yourself to a wonderful Valentine's Day (no matter the status of your love life), the next seven days are sure to be full of treats and delights if you hop along to all of these great participating blogs!
Decadent is the word I seized on for this post and giveaway, because indulging is often just the right kind of naughty and I believe 100% that a little naughty can be good for you!
I tracked down this set of trio heart shaped CZ earrings with a matching necklace for the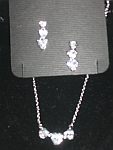 giveaway, because everyone deserves to sparkle – after dark, or whenever the mood strikes! Of course, the winner here will also receive an ebook of The Matchmaker's Mark (in your preferred format).
Two additional winners will be selected to receive kindle editions of Obsession by Debra Webb and The Heiress & Her Fake Fiance by Kimberly Hope.
To enter this giveaway, just use the rafflecopter form below to rack up all the bonus entries you'd like! If you choose to join the "I love 2096 adventure" newsletter (the form is on the top right on the home page) you'll get first access to exclusive short stories, character events, and prizes just for subscribers.


a Rafflecopter giveaway
Now that you've entered for the jewelry and ebook giveaways, be sure to visit the next three bloggers on the hop: Lacey Wolfe, Riverina Romantics, Immortal & Beyond!
And of course, go back to Close Encounters with the Night Kind or Natasha's site at any time (think of them as home base, since they put this together for us). That way you won't miss a single stop on this incredible blog hop!
Live the adventure!

p.s. This giveaway is international and winner will be randomly selected and announced at the end of the blog hop.