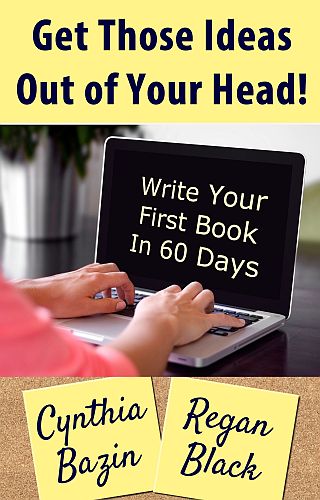 Get Those Ideas Out Of Your Head Do you have tons of ideas in your head that you know should be a book? Have you just not taken the step of writing them down? Are too many things keeping you from your goal of finishing your first book?
Cynthia Bazin and Regan Black, with over 35 years of combined experience in their fields, have teamed up to provide you with the inspiration, focus, and strategy to get your ideas out of your head and onto the page. Regan, a USA Today Bestselling author, will help you write a strong draft using the tips and tricks she has learned through her years in the publishing industry. Cynthia, a premier mentor and motivator with a Masters in Counseling, will hold you accountable with laser-focused strategies and a no-excuses approach.
Available in ebook at Amazon or in paperback at Amazon or your favorite online book retailer.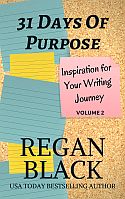 31 Days of Purpose: Inspiration For Your Writing Journey Volume 2 Do you feel as if you're slogging through your writing journey without a clear sense of purpose? Would it help have an experienced voice in your ear encouraging you to stay on track with what matters most to you? With over fifteen years of experience in publishing, thirty novels and dozens of other works under my belt, I've learned how vital it is to stay focused on our core purpose of writing.
Available at Amazon or your favorite ebook retailer.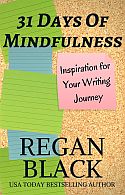 31 Days of Mindfulness Inspiration For Your Writing Journey Volume 1 Do you feel overwhelmed or alone on your writing journey? Would it help to hear a voice of experience encouraging you along the way? With over fifteen years in publishing, I've learned how important it is to have positive reminders and reinforcement at every stage of the writing process. Compiled and developed from the Inspiration for Your Writing Journey broadcasts, this book is packed with quotes and insight to help you stay motivated and mindful about your writing life.
Available at Amazon or your favorite ebook retailer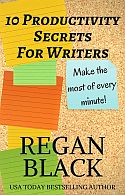 10 Productivity Secrets For Writers Are you struggling to make the most of your writing time? Do you need to minimize distractions or manage your creative procrastination skills? No matter your writing goals, this guide is packed with useful tips and strategies that can help you boost your productivity and increase your satisfaction with your writing time. With more than fifteen years of writing experience through freelancing, traditional publishing, and self-publishing I'm pleased to share what I've learned along the way to empower and inspire your writing journey.
Available at Amazon or your favorite ebook retailer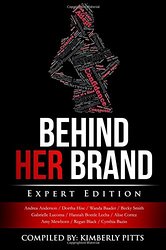 Behind Her Brand Expert Edition Compiled by Kimberly Pitts; Authors: Andrea Anderson, Wanda Baader, Cynthia Bazin, Regan Black, Alise Cortez, Dortha Hise, Hannah Bontle Lecha, Gabrielle Luoma, Amy Mewborn, Becky Smith
Behind Her Brand: Expert Edition has dual purposes. First, this book is designed to help you understand the journey, lessons, obstacles, thought processes, disappointments, victories that you go through when building your business. Second, this diverse group of ten expers provides you with applicable tools that they have used to help them build sustainable and enriching businesses. You will be inspired, encouraged, challenged, and equipped. Be prepared to be swept off your feet with their sotries.
Available at Amazon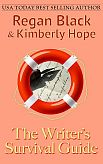 The Writer's Survival Guide by Regan Black and Kimberly Hope
Whether you're working on your first book or your thirty-first, The Writer's Survival Guide is here to help. With more than three decades of combined experience in writing through freelancing, traditional publication, and self-publishing we'll share tips, advice, and strategies for creating your ideal writing space, finding your most productive writing time, keeping the words flowing, and much more!
Available at Amazon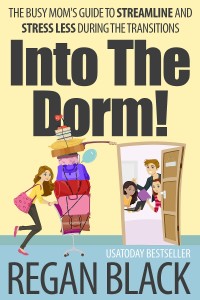 Into The Dorm! The Busy Mom's Guide to Streamline and Stress Less During the Transitions As a mom who's been through the process multiple times with both her son and daughter, Regan shares her insight and experience to make your transition easier. Full of comprehensive lists and tips, this sanity-saving guide is sure to keep you on track as you prepare your child for life in a dorm.
Available at Amazon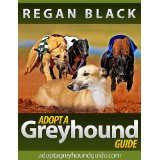 Adopt A Greyhound Guide "The adopt a greyhound guide is amazingly thorough and informative! Regan has done a wonderful job combining facts about the breed and tender stories of her own life experiences with these terrific dogs. She clearly has a passion for retired racing greyhounds." — Allison C. DVM Daniel Island SC
Available at Amazon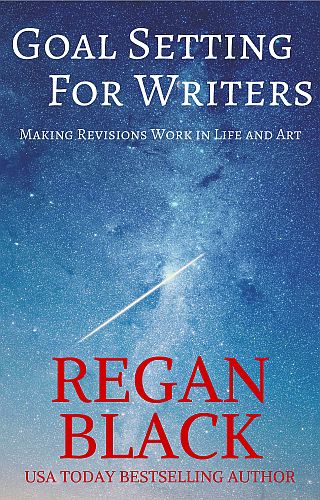 Goal Setting For Writers: Making Revisions Work in Life and Art Based on the 'Revisions and Resolutions' online workshop developed and presented by Regan, this book offers comprehensive exercises, suggestions, and motivation.
Available at Amazon