Regan's first book, Justice Incarnate introduced readers to her fast paced style of paranormal romance novels featuring self-confident take chagre alpha females. Invasion of Justice, her second book continued the trend of alpha female heroines and the outstanding heroes who fall in love with them. In Veil of Justice, readers were treated to another uniquely talented alpha female.  In Tracking Shadows, Regan delivers another alpha female heroine to delight readers and fans of her 2096 adventures.
Just as her books expand beyond contemporary settings, Regan's audience reaches far beyond the Lowcountry of South Carolina. Readers from Australia, Canada, Germany, Ireland, Mexico, New Zealand, South Africa, and the United Kingdom have lived the adventure along with her dynamic characters.
In praise of Justice Incarnate
In 2096 Chicago, security expert Jaden Michaels knows more about her past lives than ever before and vows to make a final victorious stand in this reincarnation against the evil that successfully has killed her over and over again since he first killed her in 1066. Although she acknowledges that is the same pledge she has made in each of her previous lives, Jaden feels she remembers more than ever before so takes hope in that.
Her beloved over the years this time is a by the book cop Brian Thomas, who enforces the law to the strictest level including those peddling contraband like black market coffee. Unlike his beloved Jaden, he remembers nothing and never has about previous lives. Her malevolent killer, whose memories run the millennium, happens to be Albertson, a man that Brian, holds in high regard sort of like a beloved father figure.
He rejects Jaden's plea that he will kill her as she offers no evidence except some cockamamie story. Will history repeat itself or will Jaden succeed on what she vows is her last stand? (read more)
Harriett Klausner, Amazon top reviewer 5 star review
Regan Black does a great job of creating a futuristic setting and weaving memories from other lifetimes in and out of the story to keep it moving at a fast, fun pace. But, it is her talent for setting up quick, witty dialogue and sizzling chemistry between Jaden and Brian that makes their love story such a laugh out loud, steamy delight.
Lisa Phillips (Amazon)
5 star review
There is a great caste of characters in this book, all well written. The dialogue and action flow well and keep you interested in the story. The future depicted is believable and not too out there. I ran the gambit of emotions while reading this book, my heart broke for Jaden, I got angry at the injustice, I hoped for a happy ending and the villain was nasty enough to make me hate him and wish very bad things to happen to him. A great read, packed with action scenes, romance, mystery and humor, (read more)
Loves to Dive (Amazon) 5 star review
I gobbled down the story and was not disappointed!
Jennifer Turner  (Amazon) 5 star review
In praise of Invasion of Justice
This series is compelling???" Did I say,"What a roller coaster ride???" Have I said " Get the books???" What I will say is "On to Book three Veil of Justice…
Gloria of Paranormal Romance Guild (Amazon) 5 star review
Invasion of Justice was a grab-you-by-the-throat read! After reading Justice Incarnate (book 1 of the series) I wasn't sure whether a second book could be just as riveting, compelling and page-turning. I was happy to find that Invasion was all those things and more.
Caren Helms (Amazon) 5 star review
I read it in one sitting. (read more)
LovesToDive (Amazon) 5 star review
In praise of  Veil of Justice
Readers will relish this terrific tale that stands alone; as the Shadows of Justice series is one of the best futuristic urban fantasies on the market today. (read more)
Harriett Klausner 5 stars (Amazon) 5 star review
…an adult urban fantasy book with some adult language and adult love scenes but above all it's just a plain ole good action read. (read more)
Lovestodive (Amazon) 5 star review
Although these books can be stand alone, you certainly will want to read all three. They are that good!!!!
I enjoyed reading all three of these well written, well thought out stories, that entwined themselves for this trilogy. I think I liked the fact that each story had a woman as a warrior. Each heroine had strengths in her own right, and was certainly not a damsel in distress. Each of their partners truly loved them for their strengths, trusted their abilities, but as Alphas themselves, still felt protective. There was humor, light hearted repartee, spine chilling murders, and great storyline. My hat is off to you Regan Black !!!!I hope to see more from you soon.  (read more)
Gloria of Paranormal Romance Guild (Amazon) 5 star review
In praise of Tracking Shadows
Romance and organized crime blend with a dash of sci-fi and the paranormal for a fast-paced adrenaline rush! …
Whether you're new to or already familiar with the world Black has crafted in the year 2096, Tracking Shadows stands on its own as a shining example of Black's storytelling prowess.
Jacquelyn M. Sylvan (Amazon) 5 star review
Great story! And a perfect escape from the real life drama and the oh, too twisted and heart-wrenching books coming out lately!   🙂
Deea  (Goodreads) 4 stars
Tracking Shadows was definitely a good read. I highly enjoyed the mystery. It wasn't too immersed into the dystopia genre to turn me away from the novel. If you haven't looked into this book, you should. It was very enjoyable. (read more)
Aimee Coffee Table Reviews (Amazon) 5 stars
…weaves a spell that kept me glued to the pages as the convoluted and exciting activity ultimately delivered me to a supremely satisfying denouement.  (read more)
Laurie Jenkins (Goodreads) 4 stars
Ms. Black, always an author with a dry sense of humor, has produced a witty, fun, action-packed suspense novel – a combination that rarely results in as balanced a read as Tracking Shadows. (read more)
Jordan (Amazon) 5 star review
In praise of Shadows to Light
The fifth book in the acclaimed Shadows of Justice series arrives in December 2011 and features the supernatural healer who has appeared in all four of the previous 2096 novels.
The world Regan Black has crafted in future Chicago is filled with interesting characters and detailed plots. It looks like the stories in this universe will keep coming. Start at the beginning and enjoy the whole series. It is worth it. (read more)
M. Bailey (Amazon) 5 star review
Black's built another great romance into a fantastic urban fantasy adventure that includes shopping at Water Tower Place. And how many people can do that convincingly? Shadows of Light is strong as a stand-alone read, but better if you know the cast and crew from the whole series. (Plus, then you remember that we've met Mira in all the books!)
Author Kimberly Hope 5 stars (Amazon)
Thank you, Regan Black, for another formidable book in the Justice Series, Shadows to Light blew me away.
Ms. Black's stories are fast moving, page turners, filled with concise descriptions and lots of action when needed, and lots of banter between the characters. After the last book I read, I thought Slick Mickey's story was the greatest book in the series that I read, but again Ms. Black has pulled another rabbit out of her hat. They keep getting better and better. (read more)
I read all the big name author's of urban fantasy, and for my money, Ms. Black is as good if not better than all of them. She builds a story that is never boring or predictable, and leaves us satisfied yet anxious for the next installment when we are finished. She doesn't give us the frustrating cliff hanger, thank you very much; she sets us up and leaves us begging for more. This is me, begging for more please Ms. Black. (read more)
Reviewers Gloria and Penelope 5 stars, (Paranormal Romance Guild Dual Reviews)
In praise of The Matchmaker's Mark
Regan Black is known for crafting dark, edgy, action-packed paranormal romance novels. The Matchmaker's Mark proves she has an equal talent for writing on the lighter side of paranormal romance.
When you're more than human, finding your soulmate takes more than an online survey. That's why the Matchmaker is always in demand. Half-elf Lily dreams of true love but has yet to meet Mr. Right. Dare, security chief for the Matchmaker is about to discover there's more to life than work.
…a lighthearted paranormal romance that will be loved by fans of both Nora Roberts and Kresley Cole." (read more)
Jordan (Smashwords) 5 star review
The Matchmaker's Mark is wrapped in magic and beauty! It swept me away!"  (read more)
Bestselling author, Debra Webb, 5 stars (Amazon)
A charming paranormal romantic mystery.  (read more)
Sapphyria 5 stars (Goodreads)
In praise of The Matchmaker's Curse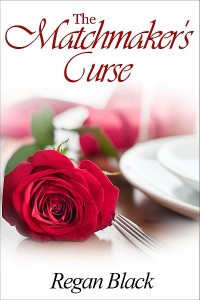 Book 2 in the Matchmaker series of lighthearted paranormal romance: Grant Barclay is a marked man – err werewolf – thanks to startling the Matchmaker at their first meeting. The only problem: he's not in the market for a soulmate.
An English professor, Maeve King believes in the power of fairy tales but prefers to keep the drama out of her day to day life. When her best friend becomes a legendary Matchmaker, helping mythical beings find their soulmates, it seems those tales of magic are coming to life all around her… and quite possibly within her. (read more…)
"In this, the second book in the series, Black blends mythical legend, Charleston's charm, and a heavy dash of romance in a recipe for the perfect pick me up read."
Author Kimberly Hope, 5 stars (Amazon)