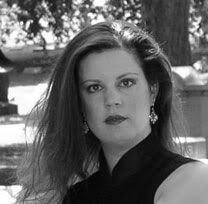 "The best time for planning a book is while you're doing the dishes." –Agatha Christie
Resource Box BIO
Regan Black writes action-packed paranormal romance, urban fantasy, and romantic suspense novels so readers can savor a fantastic escape from the daily grind. "My mission is to deliver stories full of unforgettable, passionate characters who know what they want and are willing to risk it all to reach the goal." Discover excerpts, giveaways, and more at http://www.ReganBlack.com
Byline-Print BIO :
A USA Today and international bestselling author, Regan Black writes action-packed paranormal romance, urban fantasy, and romantic suspense novels so readers can savor a fantastic escape from the daily grind. In addition to her Shadows of Justice series, and the upcoming Unknown Identities series, she's penned several short stories, blogs, as well as the non-fiction Adopt A Greyhound Guide and Goal Setting for Writers. She makes her home in South Carolina with her family and their two retired greyhounds. Discover excerpts, giveaways, and more at http://www.ReganBlack.com and contact her via http://www.reganblack.com/contact-us/.
Broadcast BIO:
Regan Black is a USA Today bestseller and the award-winning author of action-packed paranormal romance, urban fantasy, and romantic suspense novels featuring kick-butt, alpha female heroines and the sexy men who fall in love with them. In addition to the Shadows of Justice series, the Unknown Identities series, several short stories, and blogs, she's also authored the non-fiction Adopt A Greyhound Guide and Goal Setting for Writers, a book based on her popular online workshop. Raised in the Midwest and California, she now lives with her family, two retired greyhounds, two cats with god-complexes, and two quirky finches in the South Carolina Lowcountry where the abundance of history and legend fuels her imagination.
Welcome, Regan!
Full BIO:
Regan Black fell in love with books even before she started school and she discovered the pure bliss of writing during high school geometry class. While she did pass the class, it wasn't for lack of trying to ignore the material in favor of the poems and short stories she was creating in lieu of taking actual geometry notes. In the years between her high school diploma and publishing her first novel, Regan focused on other business and personal pursuits, though writing was always a favorite hobby.
Her first professional writing credits arrived when her award-winning poetry found placement in newspapers, anthologies, and a community marketing campaign. When she first ventured into fiction, she tapped the wisdom and guidance of experienced writers and mentors of her local writing groups. Following their advice, she uncovered and polished her unique writing voice. When she dared to set that voice free on the page, the Shadows of Justice series and Regan's vivid brand of alpha female heroines was born.
Since the original paperback release of the award-winning Justice Incarnate in 2005, Regan has endeavored to consistently deliver action packed paranormal romance and urban fantasy novels to readers everywhere. With four novels and several short stories, plus a young adult short story series to her credit so far, fans around the world are enjoying the fast paced adventures found in Regan's books.
She also makes a point to give back to the writing community that gave her so much encouragement.  She's taught classes online and in person on topics like critiquing, goal setting, revising, uncovering the perfect ending, and writing a synopsis. In every class Regan teaches, she offers writers a positive outlook and fresh motivation to help them reach their highest potential.
Regan makes her home in South Carolina with her husband, two teenagers and a small domestic petting zoo featuring three adopted greyhounds, two cats, and four finches. As a family, they've been dedicated to the rescue and adoption of retired racing greyhounds for over twenty years and it's no surprise she eventually applied her writing skills to this noble cause. Through the Adopt a Greyhound Guide, both greyhound adoption groups and people who are curious about adopting greyhounds benefit from her years of experience with these wonderful dogs.
As a paranormal romance author, Regan is fiercely committed to providing action packed stories with the best happily ever after endings so readers can enjoy a fantastic escape from the daily grind. When asked what keeps her motivated, she replies, "My mission is to deliver stories from the heart, full of unforgettable, passionate characters who know what they want and are willing to risk it all to reach the goal."
In the ever-changing climate of publishing, Regan has positioned herself much like her stand-out heroines: taking the initiative and being proactive about her career. "Continuing education is essential," she says. "You must stay current in publishing technologies, social media networking, and marketing. Above all, authors should always be striving to improve their craft."
You can keep up with all the news about Regan, her books, and her zoo at http://www.ReganBlack.com