Ready to savor a fantastic escape from the daily grind?
If you want a fast-paced, exciting novel for your essential escape, you've
come to the right place.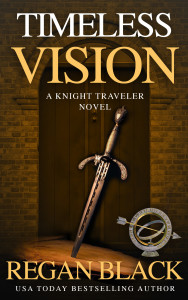 With the stress and busy lives people lead today, ways of kicking back and relaxing are really important.  Well written books allow us to leave the current world and escape into another world far from the daily grind.
Regan Black excels at delivering those escapes from the everyday stress, humdrum and chaos.  She writes fast-paced, action packed stories designed to give the reader a novel they can't put down. As one reader says, "riveting, compelling and page-turning."
Regan delivers stories from the heart, full of unforgettable, passionate characters who know what they want and are willing to risk it all to reach the goal.
Paranormal romance, romantic suspense, and urban fantasy readers can keep up with the latest books and news from Regan by subscribing to the Join the Adventure newsletter using the form on the right.
Facebook Live!
For some extra fun, visit the Regan Black fan page on Facebook for a live glimpse into the writing cave. 😉
Periscope Broadcasts
I have a collection of periscope broadcasts for my Inspiring Quotes for Writers series and more than a few feature our greyhound Bandit.
Recent Awards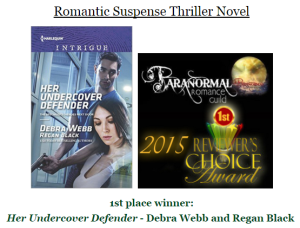 Her Undercover Defender recently won top honor as the 2015 Best Romantic Suspense from Authors On The Air Global Radio Network Book Reviewers and the 2015 Best Romantic Suspense Thriller Novel from the Paranormal Romance Guild Reviewer's Choice Awards.
In addition, the Heroes Next Door series published by Harlequin Intrigue won first place as 2015 best Romantic Suspense Thriller Series from the Paranormal Romance Guild Reviewer's Choice Awards.
Recent Interviews
On 1Sep2016 Regan was a guest of the amazing Gail Foley and her One Awesome Community podcast!
Click the link for the replay: http://bit.ly/OAC206-Regan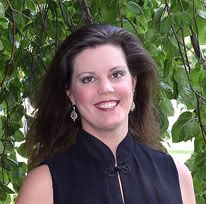 Writing kick-butt alpha female characters gives me strength to balance the unfettered bliss of writing with a household of engineers of all ages and a domestic 'zoo' starring three retired greyhounds, two cats, and four finches.