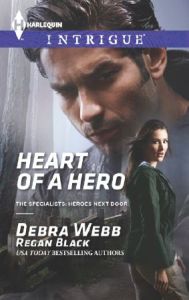 Heart of a Hero by Debra Webb and Regan Black
In stores February 1, 2015
Ebook or paperback available at Amazon | B&N or your favorite retailer.
USA TODAY bestselling authors Debra Webb and Regan Black continue the thrilling new series The Specialists: Heroes Next Door
Trapped with a madman…
Trail guide Charly Binali is alone in the Rockies with a madman and his armed mercenaries, and he's demanding she lead him to a powerful, hidden device. And when help comes in the unexpected form of her very hot neighborhood mailman, Charly discovers the "nice" guy she gave her heart to isn't who she thought.
Undercover CIA agent Will Chase hated lying to Charly, but getting to that dangerous device first is a matter of national security. It's seven bad guys against him and Charly, but between his training and her survival skills, they just might beat the odds—if he can get her to ever trust him again.
~~~REVIEWS~~~
"Webb and Black do it again!" – Blond Betty, Amazon reviewer
"Fun, fast, and sexy!" – jw reinhold, reviewer
"I loved this story, and you will too." – Gloria L, reviewer
~~~EXCERPT~~~
Washington, DC
Tuesday, February 3, 2:50p…m.
"I'm in. But I'm not wearing the shorts."
Director Thomas Casey eyed William Chase, one of the newest recruits to his team known as the Specialists. He respected independent thinkers. Went out of his way to select highly skilled individuals who knew how to solve problems quickly and creatively. Still, it was rare when anyone on his handpicked team showed this kind of attitude. Maybe he'd made a mistake with this cocky young guy fresh from an elite Navy SEAL team.
"A uniform is a uniform," Thomas said, keeping his voice even.
"That's true, sir," Will agreed. "And it should convey authority."
Thomas couldn't believe he was having this discussion with so many bigger issues at play. "You'll have time to come to terms with how the US Postal Service conveys authority in Colorado before the weather warms up out there." He wanted someone on his new task force planted in the middle of the country. Someone who could respond effectively to a variety of situations.
"Shorts are for kids and physical training. Are you going to pull me off this operation if I don't wear the shorts?"
Thomas reached out and closed the plain manila file outlining Will's assignment. Potential assignment. It could've been worse, Thomas supposed. He could be having this conversation in a public setting rather than the absolute privacy of his office. He couldn't get a read on whether or not Will was kidding around. The uncertainty and unease set off warning bells in his head. He considered asking why the shorts were such a big deal and decided it didn't matter. Through the years, he'd worked with so many men and women, those who did the impossible tasks in the field and those who worked right here supporting them. Eventually his luck with recruiting was bound to run out. One more sign that it was time to retire and put his personal life, his hopes for a family, ahead of the nation's problems. But his nation needed him, had demanded his expertise one last time. If he assembled the right team, he could walk away with confidence.
"I've changed my mind, Will. You're not the right man for this job after all."
"Because I won't deliver mail in those ridiculous shorts?"
Thomas drummed his fingers on the file, met Will's stony gaze. This recruit might be a bit too independent. "Because you're agitated over a small conformity issue and that makes me question what you'll do when the stakes are higher."
"Agitated is a bit of a stretch." The smile on Will's face didn't reach his serious eyes. "You have to agree every postman who complies with that dress code is nothing more than a sheep."
"Thank you for your time," Thomas said, determined to go with a different Specialist for this post.
Will didn't budge. "Forget the shorts. Forget agitated. You saw this one—" he pointed to the folder "—whatever it is, and chose me because I succeed, always, when the stakes are highest."
"I was wrong," Thomas said with a casual hitch of his shoulders. "It happens. Close the door on your way out."
"No, sir. I want this assignment."
Thomas laughed. Couldn't stop it. No one gave him this much trouble, other than his wife, and that had been long before they married. He shouldn't find it refreshing. "You think you know how far you can push me?"
"No, sir. I know how far I can push myself."
"From my perspective you can't push yourself far enough to comply with the basic standards of your operation."
"The shorts are irrelevant, in any circumstance. You need someone willing to dig in for the long haul. Colorado was built by rugged individuals who don't see conformity as strength. They value independence and wide-open spaces and they respect people with conviction."
"So this conversation was your attempt at an audition?" Thomas wasn't laughing now. "That's not how we do things here."
"It's how they do things there." Will's eyes, intent and serious, underscored his point.
Thomas turned to his computer monitor and adjusted his glasses, going over Will's service record one more time. "Tell me what happened at Christmas."
Will didn't evade or protest, didn't get defensive or make excuses. No sign of agitation or argument now.
Easing back into the chair, he smoothed his relaxed hands over his thighs. "Not much typically happens in the way of celebrating Christmas in Afghanistan unless you're on a military installation."
Thomas still had the formal report up on his computer; he'd reviewed it one last time before Will had walked into the office. Officially, Will had been in the nosebleed section of the mountains tracking down a terrorist cell that had gone inactive due to the harsh winter weather.
"And I wasn't on base over the holiday."
"You didn't have a chance to go home?" Thomas was impressed with the way Will maintained his composure. Maybe this was the real man, the real professional he'd been looking for since the meeting began.
"Didn't take it," Will replied with a dismissive twitch of his shoulders. "The other guys had family missing them. My parents were doing fine."
"I'm sure they missed you."
Will leaned forward. "If you're worried I'll crack or break cover, that's not a problem," he said. "I've been away from home a long time, sir. The scarcity works for my family."