Okay, readers, I get to share a special offer from bestselling author Debra Webb today! No, it's not a paranormal romance novel, but just in time for Halloween it is great news for fans of terrifyingly good thrillers!
For this weekend only, if you buy OBSESSION (intro priced at just $.99) Debra will treat you to a free digital copy of DIRTY, the debut novel in her fabulous Jackie Mercer mystery series! Yup, you can score two full length, absolutely great reads for only 99 cents! (details below)
Here's a special treat: an excerpt from OBSESSION: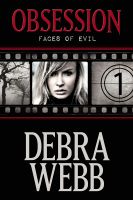 Jefferson County Sheriff's Department, 5:00 p.m.
Dan watched as Jess placed the photos on the case board, then sketched a timeline. Beneath each photo she wrote the relevant information. Name. Address. The names of family and close friends. Then the date, time and location of disappearance.
Exhaustion tugged at his ability to concentrate. The past three days he'd worked night and day and he had nothing to show for it. He stared at the photos and another wave of regret and urgency washed over him. How could his and two other departments have slogged through every aspect of these girls' lives and have nothing?
Jess faced the group assembled at the conference table and adjusted her glasses.
When had she started wearing glasses? He squeezed his eyes shut for a moment and fought the wave of melancholy. The idea that she was really here still amazed him. Startled him on some level. He'd fully expected her to flat out refuse his request. But she hadn't done that. She'd dropped everything and come to his rescue.
After that night ten years ago—the memory was permanently seared into his brain—he wouldn't have blamed her for turning him down. For nearly two decades he'd kept up with her career. Jessie Harris had climbed the ranks at the Bureau like a fire scaling a mountainside in the driest part of August. According to his liaison at the local Bureau office, she was the sharpest profiler on staff at Quantico. She possessed an innate ability to nail an unknown subject's motive with uncanny accuracy.
He'd stopped asking about her a couple years ago. Hell it was way past time he'd gotten on with his life. Two doomed marriages were two too many. He'd met Annette and decided it was time to move on and start a real family. Only that hadn't happened. Annette had gone back to her ex and that was that. He caught himself before he shook his head. This case was far too important for distraction. Escape, he realized. His mind needed the escape. As tempting as it was, that was a luxury he couldn't afford.
"Gentlemen," Jess said, drawing his attention back to her. She paused. "And Detective Wells," she added with a quick nod to the one female member on this task force besides herself. "I've provided my preliminary profile for your review. It's on the table." She gestured to the neat stack of stapled documents in the center of the conference table.
Each coversheet carried the BPD logo, not the Bureau's. Made sense. Jess was here in an unofficial capacity. Dan wondered how her husband felt about her rushing to the aid of her former lover. The wedding band she wore was simple, not a piece of jewelry that would draw the eye. Yet, he had spotted that delicate gold band the instant his attention settled on her standing in his waiting room.
Focus, Dan.
The stack was passed around, the final copy of her profile landing in his hands. He flipped over the cover sheet and stopped. Turned another page and then another. Each was the same. "The pages are blank." What the devil was she doing?
~~~
Don't miss this weekend-only deal! Hurry over to Amazon or BN and buy your copy of OBSESSION for just 99 cents. Then email your proof of purchase (that's just the order number from your electronic receipt) to debraewebb AT aol DOT com and she'll reply by email with your coupon for DIRTY!
Live the adventure!