Okay,when I heard Debra Webb, one of my favorite people, was releasing a brand new thriller series, I thought "Yes!!!" Deb's known for her terrific characters (from the stunning heroes to creepy villains) and fast paced plots.
Then I heard she was releasing the first two full length novels in the series within a few weeks of each other, I just about fell over in awe. That's serious dedication to the reader. Now she's offering a HOLIDAY special – this weekend only! (details below)
When I read OBSESSION, book 1 in the Faces of Evil series, I was blown away! I wrote a review, and helped get the word out, but at the heart of it, I just felt WOW about the whole thing. It's an intense novel with characters you can cheer for and cringe over: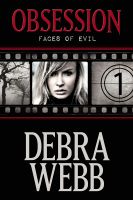 Special Agent Jess Harris has spent more than a decade studying the many faces of evil. But in her determination to stop a heinous serial killer, she messed up, broke the rules, and it cost her everything.
Jess jumps at the chance to escape her current reality and to advise on a case that has Birmingham, Alabama's top cops stumped. The trouble is, the case forces Jess to confront all the reasons she put her hometown and her first love, Police Chief Dan Burnett, in her rearview mirror all those years ago.
Dan Burnett will do anything to find the four young women who have gone missing before it's too late to save them–even if it means asking for help from the woman who has spent a decade avoiding him. Until recently he kept up with Jess's career at Quantico.
She's the best at what she does and he needs her to help him solve this case. And just maybe, in the process, they can break down that brick wall she has built between them. Maybe they can even be more than friends again.
When a fifth girl goes missing without a break in the case, Jess questions her skill as a profiler and an investigator. Then the unthinkable happens. A startling personal message reveals that the crazed serial killer whose case she blew has followed her to Birmingham, adding a chilling twist to an already desperate situation, and time is swiftly running out…
And that brings us right into IMPULSE, a sequel you will want to dive into immediately – and now you can! Not just another excellent book, Impulse takes 'compelling thriller' to a whole new level: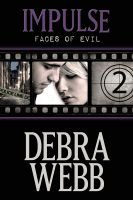 …The Player has mastered the art of torture and murder. No one has ever gotten close until Jess touched him with her powerful insight and relentless determination. He will have his vengeance…but first he will make Jess pay in ways she never imagined.
The first victim is Jess's friend and he won't stop there. With each new victim Jess grows closer and closer to the realization that the only way to stop the Player is to give him what he wants—and he wants her.
Chief of Police Dan Burnett is determined to give Jess her life back and to protect her. With an offer of deputy chief of a new division on the table, can Jess risk staying in her hometown and putting those around her in more danger?
But can she walk away in order to protect everyone she loves, including the man who wants her back in his arms?
A single impulse will determine who survives his final game…
To say Debra has a blockbuster hit on her hands with this series is an understatement!
And for this weekend only, she's offering a special for readers: Holiday special this weekend only!
Purchase IMPULSE ($2.99) and get 3 of my classic romance ebooks FREE!
Purchase both OBSESSION ($.99) and IMPULSE ($2.99) and get 5 classic romance ebooks FREE!
Readers can choose from Here to Stay, Up Close, Tempting Trace, Keeping Kennedy, Free Falling, or Going to the Chapel!
It's so simple. Just send Deb an email through the "Talk to Deb" tab on her website , put your purchase order number in the message box and let her know which free ebooks to send you!
This is a great chance to stock up on fabulous reading from romantic to suspenseful from a nationally bestselling author!
Live the adventure,