Please give a warm welcome to Stacy Eaton, talented author here to celebrate her newest release: Garda – Welcome to the Realm with an interview you are sure to enjoy!
 Stacy, what is your favorite 'place' in the world you built for this book?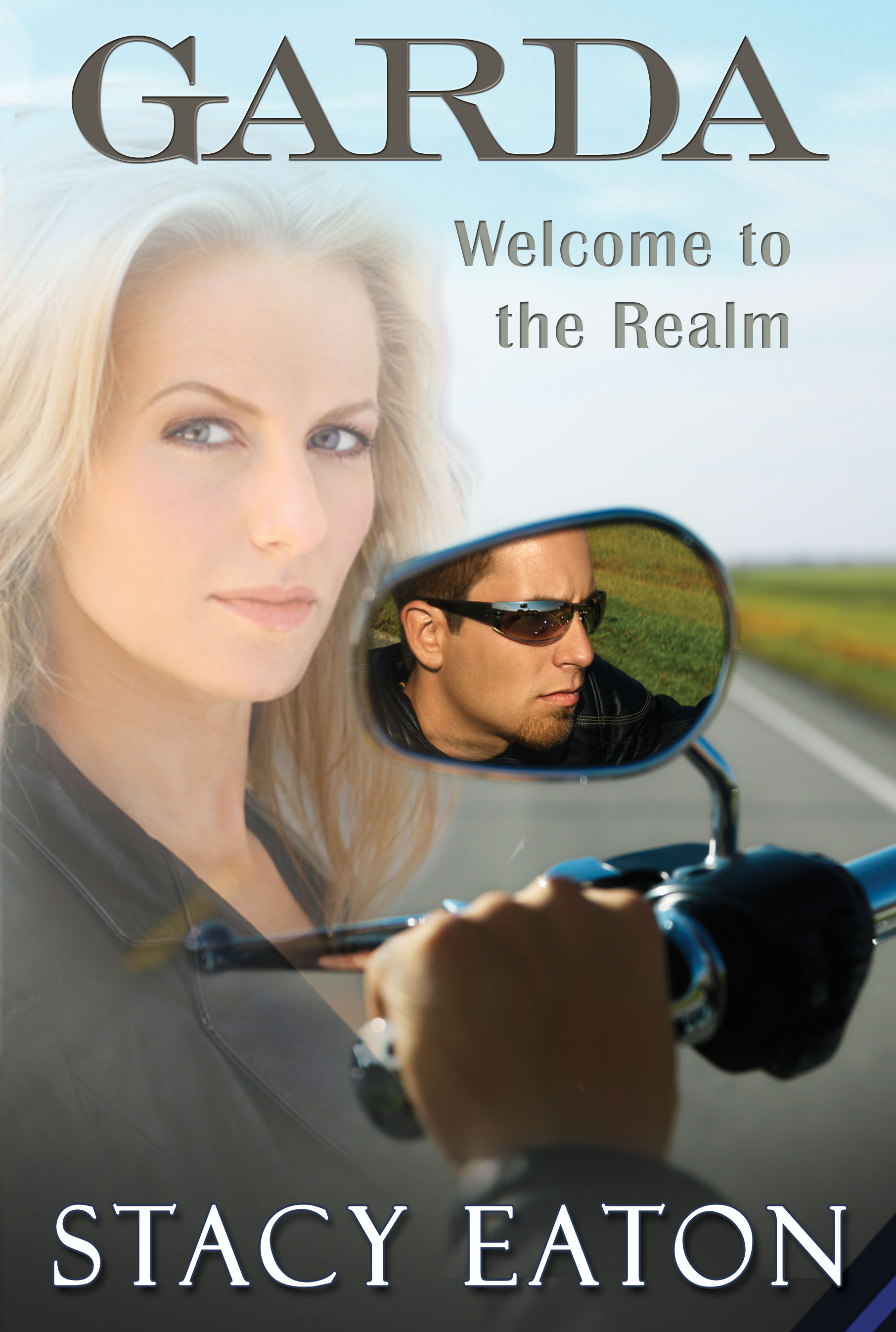 Oh – I love the Realm!!  The beauty and tranquility of it! In Garda – Welcome to the Realm, I designed the Realm to be that place between heaven and Earth where the guardian angels reside and train. The vast openness of the land and the beauty of the sky are talked about several times.  It was hard not to talk about them when the characters were all so drawn to the beauty of it. Plus some very intense moments and special things happen there.
Why do you write paranormal novels? 
Normally, I write in the Paranormal genre, but I have written in the general fiction category with my domestic violence novel, Whether I'll Live or Die. I love reading paranormal so it only makes sense that I enjoy writing it too.  For those readers who don't know, I'm a police officer/investigator full time so I have a very stressful job and see the worst and sometimes best of people, mostly the worst though.
When I step into a book, and yes, I like to step into them, I want a world where things are different, where the unusual can happen, where life can be different.  When I am writing, I try to do that, but I like to mix it up a bit, and give you what could possibly be true with just that added twist of paranormal. It's why all my books are set in the law enforcement world. You get hard cold facts and see officers in action, and then you step out of reality and into the other world.
Do you have a playlist or sound track for your book or your writing process?
Music… I love music…. And when I am at my computer, it is always playing. When I wrote the My Blood Runs Blue series, I spent a lot of time listening to Evanescence.  I liked the hard, dark spiritual tone of their music. It fits the series.
When I was writing Whether I'll Live or Die, my music would change from day to day. It would depend on what scenes I was writing. Some days I would put on piano music just for back ground noise to help the flow. Sometimes I would listen to sad songs.
With my newest Novel, Garda – Welcome to the Realm, I listened to quite a few different things. I have over 1000 songs in my playlists and I changed them up every day or two depending on what I was writing. I need the music to help me stay in the mood and block out the stuff happening around me.
Please tell readers what amused you or scared you most while you were writing this book.
Actually, it wasn't the writing, but the beta readers that amused me the most. Instead of chapters in Garda, I wrote it in 8 sections. When I sent it out to my beta team, I would send them one section along with a set of questions. In each section I would ask them, what did you think of the three main characters and specifically about the events from that section.
I loved seeing the changes in their perspectives as they got to know the characters, but the most amusing thing was when they all got done with section 7 entitled The Accident, every single one of them wrote me back saying, "OMG!!! Send me the next section!!!" I laughed every time I got the emails from them, because all of them said basically the same exact thing.
What did you love most about creating this book?
Something I love most about my book is that, as you read, you will have all these questions that will make you wonder. Then as you read, those questions get answered a little at a time, and sometimes when you think you know the correct answer, you are surprised when the twist upends you and you find yourself looking the other way!  Being able to blend in so many different events and characters is a challenge and getting them from point A to point B can sometimes be difficult, but I really enjoyed doing it in this book!
What's the one question you wished people would ask about your book?
There is a little rumor that this is the first book in the series, and I know that when people read this one, they might wonder what the second one would be about. Well, let's just say that there is a child in the story that will gain the section headings and a Garda who will watch over him and find a change to his own destiny.
Thank you so much for having me on your blog, Regan!! It has been a pleasure to be here with you and your readers!!!
Here's more about Garda – Welcome to the Realm:
"He is my destiny."
There is a place that lies between heaven and Earth, it is called The Realm. Within this place, the Guards of Peace, known as Garda Síochána, learn to guide and protect the ones that live below until they are called home.
Officer Corey Hamilton is dedicated to being the best that she can be, in uniform and out. Her loving nature, compassionate thoughts, and warrior strength make her the perfect candidate to join the Garda Síochána and spend her eternity protecting and guiding others.
Just before Corey dies in a line-of-duty accident, she meets Officer Mitchell O'Reilly. Her feelings for him may change her destiny, but not for the better, as she falls in love with this married man. Brock, Corey's personal Garda, will bring her home to The Realm and attempt to train her for her future, even while she still fights for her past.
Will Brock be able to direct Corey down the right path, or will she cross the line and fall from grace?
Join Corey, Mitchell, and Brock for an emotional and heart-pounding adventure that is sure to make you wonder if angels are really guiding us in our everyday lives.
Keep up with Stacy online:
At her website: 
www.stacyeaton.com
or through her blog:
 http://stacyeatonauthor.blogspot.com/
Goodreads:  http://www.goodreads.com/author/show/4826711.Stacy_Eaton
Facebook: https://www.facebook.com/pages/Stacy-Eaton/191880767522183?ref=hl Twitter: @StacySEaton You Tube video Trailer:
http://youtu.be/uNJcU7Ni8k8
More about the author:
Stacy Eaton is a police officer by profession. Currently, she is working as the department investigator and enjoys digging into cases and putting the pieces of the puzzles together.
Stacy resides in southeastern Pennsylvania and is the wife to a police officer and the mother of two. She is very proud of her son who is currently serving in the United States Navy and equally proud of her nine year old daughter who works hard in her Tae Kwon Do studies.
When Stacy is not working her demanding job, or spending time with her family, she works on her business and volunteers with the World Literary Café. When there is time, she writes.
Stacy is currently working on book 3 of the International Best Selling "My Blood Runs Blue" Series (release anticipated late 2013). She is also working on a second Domestic Violence Novel, You're Not Alone. She also has plans to add a second book to her newest series, Garda, along with publishing a contemporary romance later this year.
Live the adventure!