It's an absolute pleasure to exchange interviews with Jaz Primo, author of the Sunset vampire series! We've got an interview, a teaser, PLUS Jaz has generously offered one lucky visitor an autographed copy of his Sunrise and Sunset novel (giveaway is international!)
When you've read his interview here (and entered the giveaway by leaving a comment) you can hop on over and find me at his blog (with an interview and giveaway)! Who knows what tantalizing secrets you might learn? And what great books you might win?
So without further ado, here's Jaz:
What is your favorite 'place' in the world you built for your story?
I like events that take place in London the most. It's an ancient, fascinating location that is a charming anomaly of modern city combined with elements that are magically historic in nature. It's the perfect location to host a vampire storyline, as well as the ideal base of operations for one of my central Sunset vampires, Alton.
What do you enjoy most about the genre you write in or the characters you develop?
I enjoy the vampire genre because most any reader can immediately immerse themselves into the basic lore. Vampires are embraced in some manner by most every culture in the world.
As for my Sunset Vampire characters, I love the diversity of their personalities and how well the chemistry works between them, even when they're not necessarily seeing eye-to-eye. It feels very tangible and real to me.
Do you have a playlist or sound track for your book or your writing process?
Definitely! I rarely write, or contemplate my writing, without having a soundtrack playing in the background on my computer or iPod. Each of my novels has a specific soundtrack for helping me relate to the emotions or action in a particular scene or pivotal moment. I'll play a song over and over again until a specific scene is written so that I stay centered in the moment.
In fact, my soundtrack while answering this interview question is a song called "Crystal Vases" by The Last Royals.
Can you please tell readers what amused you or scared you most while you were writing this book?
The humorous personalities of two central characters, Caleb and Paige, amused me the most as I wrote the first three novels in my Sunset Vampire series. For my debut novel, Sunrise at Sunset, the part that scared me the most was writing about the gender role reversal between my primary characters, Katrina and Caleb.
I worried that my writing wouldn't be accepted with a female alpha and a male beta. Society can be very unforgiving, and prejudicial, towards alternative points of view when it comes to gender relations or sexual orientation. Writing on the fringe can burn an author faster than one might think in today's marketplace. Scary…
What's the one question you wished people would ask about your book?
Wow, that's an excellent question, actually. Here's one: "Why did you choose to write Caleb as a beta male?"
*silence*
Want to know the answer? *hopeful grin*
*crickets chirping*
*my grin fades*
*sigh*
Well, I'll tell you anyway. It's because that's how Caleb revealed himself to me. Unlike nearly EVERY vampire novel in the market today, he wasn't the typical muscle-bound freak alpha male who tosses people around bars while issuing pithy anecdotes and then forcefully crushes his lips against the heroine's mouth.
Caleb is a sincere "everyman" who wins Katrina's heart with his selfless devotion, love, respectful sincerity, and his willingness to sacrifice himself for her even against insurmountable odds. I see Caleb as a "real" guy that most any woman might actually want to be loved by; especially a woman who has control of everything around her, except perhaps her heart.
Thanks so much, Jaz!
My sincere thanks to you, Regan, for the awesome opportunity to appear on your blog. Before I sign off, I ask your followers to please consider reading my Sunset Vampire Series. The first novel, Sunrise at Sunset, was published in October 2010, and the second novel, A Bloody London Sunset, was published in May of this year.
A third installment, Summit at Sunset, is being released in January 2012. All novels are available in both trade paperback and multiple eBook formats from major retailers including as Amazon, Barnes & Noble, Books-a-Million, and Apple iBookstore.
Here's the teaser for Sunrise at Sunset:
When is a bloodthirsty predator the best protection against a psychotic killer?
When the predator is both a vampire…and the woman you love.
"We vampires are focused and tend to shape our own realities."
My name is Katrina Rawlings, and I am a vampire. I declare that with neither pride nor ego. I am simply nature's most dangerous predator. On occasion, it's a very valuable quality. It helped me protect Caleb Taylor one day when he was very young. But that single, traumatic day is behind him now; wiped from his memory, or so I hope.
Author Bio: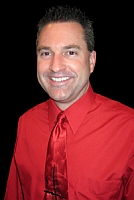 Jaz Primo is an author, history aficionado, "pun-master", and all-around fan of things vampire and urban fantasy. He has enjoyed a fulfilling background and career in higher education, including teaching undergraduate U.S. History classes during evenings. His lifetime of creative writing, coupled with an eclectic and creative imagination, has generated the perfect storm for a new voice in urban fantasy and paranormal romance via the compelling Sunset Vampire Series. He is a native of Oklahoma where he lives with his wife and a long-lived cat.
You can find or follow Jaz at the following locations:
Website: http://www.jazprimo.com/
Blog: http://primovampires.blogspot.com/
Facebook: http://www.facebook.com/#!/pages/The-Sunset-Vampire-Series/223514840998333
Twitter: @jazprimo
Signed book giveaway! Now, be sure to leave a comment (with your email so we can contact you) and tell us your favorite Halloween candy to be entered for a chance at the signed paperback copy of Sunrise at Sunset! (giveaway is open internationally! Winner will be selected and notified on October 29th!
Good luck!