Please welcome today's guest author, Caroline Clemmons! She writes historical and contemporary genre fiction and has a slew of titles available. That's fabulous news for readers. Caroline has a wonderful interview in store for you today, focused on her western romance, BRAZO'S BRIDE, so without further ado, here's Caroline!
Regan Black: What is your favorite 'place' in the world you built for this book?
Caroline Clemmons:  For BRAZOS BRIDE, I created a lovely Southwestern hacienda with thick adobe walls plastered over and painted a soft sand on the outside and white on the inside and terra cotta roof tiles. It is two stories with one-story wings at each side. The inside has terra cotta tile floors with dark beams exposed overhead. A large staircase leads to six or seven bedrooms upstairs and there are several bedrooms downstairs plus staff quarters.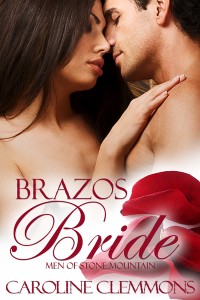 The kitchen is large, with a large pantry and root cellar. In addition to a parlor, there is a salon, library/study, dining room, and sunroom. When arriving in front, one drives into the large walled courtyard with a central fountain. The home's back includes a large terrace/patio along the entire house and extending about twenty feet beyond the balcony that runs along the back of the home. French doors open from the back bedrooms to the balcony. Beyond the terrace are a rose garden, vegetable garden, and orchard.
I mean, if you are creating a dream space, why not go first class, right?
RB: I agree completely and it sounds fantastic! Why do you write western romances?
CC: I blame my dad. 😉 When I was a child at dinner, my dad told stories of his family coming from Georgia to Texas and forward. Captivated, I begged him to tell those tales over and over. Another factor was the movies. I fell in love with Roy Rogers as soon as I realized a red towel would not help me fly from a tree like Superman. At that time, we lived in Southern California, but the summer before I turned eight, we moved back to Texas. I was in heaven because I KNEW I would see cowboys everywhere and would soon be riding the range.
Sadly, we moved to a cotton farming community. On the way to see my grandmother, who lived in Oklahoma, we passed through a ranching part of Texas. I saw cowboys on horses rounding up cattle for branding. I knew I was in the right place. In addition, I had a couple of superb history teachers who increased my interest. Now, I absorb every detail I find about the post Reconstruction period from 1870 to 1895. I think it's in my blood.
Don't think for a moment that I wish I'd lived then. Nope, I am too fond of A/C, clean bathrooms, and all the other creature comforts available. That doesn't
mean I can't daydream about the Old West, though.
RB: Do you have a playlist or sound track for your book or your writing process?
CC: I listen to Pandora classical when I write and a Carole King shuffle when I do email and promotion that includes Carole. Years ago I read Don Campbell's MOZART EFFECT and have the CDs. I agree with him that music can be healing and help create. For my writing at least, I think it adds a nice rhythm to my words.
RB: Please tell readers what amused or scared you most while you were writing this book.
CC: Amusing? The hero's aunts are fun characters that will recur throughout the trilogy. They are modeled after my mom and her sister. I call them corkers in the book, and they were in life! Each would have done anything for her family.
Each book in this trilogy uses a type of poison in some way. In BRAZOS BRIDE, the heroine is being poisoned. In the second, HIGH STAKES BRIDE, the heroine must use poison to escape a captor. In the third, DESTINY'S BRIDE, the heroine is accused of poisoning her husband. Frightening was the research on poison and realization of how easily one could kill a person. Oooh, scary!
RB: What did you love, hate, or find most challenging with the characters or plot of this book?
CC: I had a difficult time in this book with the villain. Keeping that character's identity a secret was difficult and I'm still not certain I entirely managed. I suppose readers will tell me. I'm too close to the book to be objective.
RB: Boy, do I understand that one. 😉 What's the one question you wish people would ask about your book?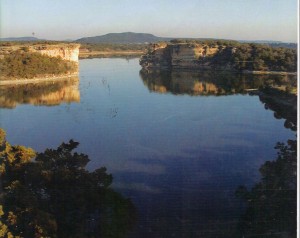 CC: "Is this credible?" I'd answer, yes, BRAZOS BRIDE, is credible for 1870 Texas. Investing time in research paid off for me and I believe I could drive you right to where this ranch would be, although some of it would now be under water due to a dam on the river that created Possum Kingdom Lake. (pictured at the right)
Not the same type of beauty as more lush and verdant landscapes, this is nevertheless beautiful. When we've driven visitors from other countries through this area, they loved it.
Read more about BRAZO'S BRIDE:
Hope Montoya knows someone is poisoning her, but who? She suspects her mother was also poisoned and knows her father was murdered. Who wants her family eliminated? She vows to fight! She realizes she won't last the eight months until she turns twenty-five and her uncle no longer controls her or her estate.
Never will she be dominated by a man as she was by her father, as she has seen her mother and grandmothers dominated. If she marries, she gains control now, but only if she weds a man she can trust. Only one man meets her requirements. Can she trust him to protect her and capture the killer…but then to leave?
Micah Stone has been in love with Hope since the first time he saw her. But he was accused of her father's murder and surely would have hung if not for his two brothers' aid. Most in the community still believe him guilty. But the drought has him too worried about water for his dying cattle to care about his neighbors' opinions.
When Hope proposes a paper marriage in exchange for land on the Brazos River and much needed cash, her offer rubs his pride raw. His name may be Stone, but he's not made of it. He can't refuse her for long, and so their adventure begins.
More about the author: Caroline Clemmons writes mystery, romance, and adventures—although her earliest made up adventures featured her saving the West with Roy Rogers. Her career has included stay-at-home mom (her favorite job), newspaper reporter and featured columnist, assistant to the managing editor of a psychology journal, and bookkeeper. She and her husband live in rural North Central Texas with a menagerie of rescued pets. When she's not writing, she enjoys spending time with family, reading, travel, browsing antique malls and estate sales, and genealogy/family history.
Excerpts from some of her exceptional reviews can be found on her website at www.carolineclemmons.com. View her blog posts Mondays, Wednesdays, and Fridays at http://carolineclemmons.blogspot.com and find book reviews, giveaways, interviews, and miscellany.
You can also keep up with Caroline on Facebook  and Twitter: @CarolinClemmons (no 'e' in Caroline) and Goodreads
Caroline loves to hear from readers at caroline@carolineclemmons.com
You can purchase your own copy of BRAZO'S BRIDE today at Amazon
Please give Caroline a warm welcome and leave a comment or question for her as she'll be visiting throughout the day. And just for fun, I'll be giving away one kindle edition of Brazo's Bride to one lucky commenter!
Live the adventure!