Why should you adopt greyhound retirees fresh from race track life? Because retired greyhounds are only the most awesome canines going!
Okay, maybe I'm biased, but that's to be expected after spending more than twenty years with these delightful, loving animals. Bred to race – and they love to run – when they're not competitive anymore, these dogs need a retirement home.
Could it be yours? I hope so!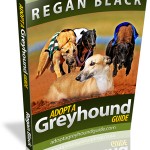 It's not tough to adopt greyhounds.  There are rescue groups in every state and many other countries (England, Australia, etc) who help adopt greyhounds off the track and into loving homes.  Usually for a modest fee (one that doesn't often cover actual expenses) you can adopt a greyhound.
Of course you'll need to know a bit about the breed and the expectations of the greyhound you want to adopt. That's where my latest book – Adopt A Greyhound Guide can help.
It's packed with greyhound adoption information and tips I've learned along the way – from our very first greyhound, Bubbles, through nearly 30 other retirees, right up to the present occupation of Brody, Boo and Bandit.
No, I didn't give them all 'B' names on purpose. It just worked out that way.
Adopt a greyhound and you'll find yourself sharing every day with a laid back dog who is beyond happy just to have a soft bed and all the love you can give.
Adopt greyhound retirees and you'll find yourself in greyt company too. Rescue and adoption groups are full of fun people as excited as you are about these amazing, smart, and loving animals.
Most important to me – aside from helping more people experience the greyt joy of greyhound adoption – is that the Adopt A Greyhound Guide is designed to give money back to greyhound rescue and adoption groups.
50% of the proceeds go to greyhound adoption groups!
This is a big deal – and a greyt deal for anyone who wants to learn more about why they should adopt greyhound retirees!
Live the greyhound adventure!