It blows my mind that today my firstborn turns eighteen. Another big milestone! She'll celebrate with friends I'm sure, but I know it won't feel complete until our adopted greyhound Brody sings Happy Birthday to her before she blows out the candles on her cake. (He's very talented).
It's a day packed full of memories of all we've been through and the hopes and dreams for her future. A day as full as our cars eleven years ago when we moved from the Midwest to the South just days before her seventh birthday.
As the designated driver of the van, I was blessed with the company of our adopted greyhound Bubbles, both cats, and both children. Let's just say my hopes and dreams include never repeating that experience.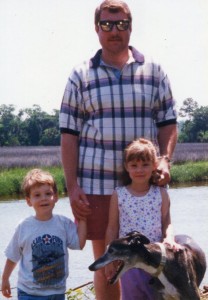 Bubbles was great, she'd always been a fantastic car companion, and she did her part to amuse the children and keep the cats calm. On a trip like that all you can do is prepare for anything and pray the worst doesn't happen. It was cumbersome to say the least, but we made it!
Everyone had a role when we stopped for whatever necessity of the moment: refueling the vehicles or rest stops for the passengers.
The nearly-seven-year-old would clip Bubbles' leash to her collar and hold her while I eased open the van door. After catching the inevitable tumble of toys or sippy cups, I'd unbuckle the toddler and let him burn off a little energy while I walked the greyhound and answered the inevitable questions posed by travelers curious about her. Once we'd completed the necessary tasks, we'd get back on the road.
I'll always wonder what the hotel staff thought when we arrived: a small caravan with a plethora of dependents.
And I'll always be grateful for staff's hospitality as well as Bubbles, who enchanted them with her exquisite grace and perfect greyhound manners. They were delighted to meet her and made us feel that much more welcome in our new town.
Wow. Eleven years since that cross country adventure went pretty smoothly. Twenty years (and counting) of marriage and greyhounds. All years packed with human and canine milestones. Watching the kids grow, hosting foster greyhounds, and expanding our family with adopted greyhounds after Bubbles passed on.
Forgive my nostalgia on this amazing day and…
Live the greyhound adventure!

The Adopt A Greyhound Guide is helpful for people eager to make a new fast friend, as well as a helpful fundraiser for greyhound rescue and adoption groups.