Yup, it's another Boo post! And another Memorial Day tie in, but stay a minute because I don't think I've told you this story before…
My husband, a soldier in the US Army Reserves, deployed to Iraq in the fall of 2007. He'd been gone most of the nine months before the actual departure with various training and schools. Early in that process, we lost two of our adopted greyhounds to liver disease, just weeks apart. It was gut wrenching. Brody was the only adopted greyhound here for the first time in his life.
My husband had only been gone a couple of weeks when we acquired a new foster dog. She was small, black, with a goofy track name. It wasn't long before Brody (and the rest of us) decided she was a keeper. (My husband and I talked over via email and he agreed Brody needed a new friend) And we blame her new forever name on the adorable way her ears resemble the perky ponytails on the character Boo from Disney's Monster's, Inc.
For months, Boo only knew me, the kids, and Brody. She met neighbors, and other dogs of course, but we were her new pack.
A couple months before my husband's return, we babysat two adopted greyhounds, Ransom and Ozzie. Brody likes Ozzie because when he was a foster greyhound at our house and he didn't steal the tennis balls. Ransom is a gorgeous, easy to love brindle who gave Boo her first queen lessons.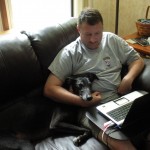 But Ransom and Ozzie had a Daddy. During the drop off and pick up, Boo was mesmerized by this tall man with the deep voice and gentle hands. She laid her face in his palms and just soaked up all the lovies she could get from the Daddy.
So we started telling Boo that she had a Daddy and would meet him soon. She'd perk those ears at the D-word and look around, but she just didn't seem convinced.
I can't express how fabulous it was to hug my husband and see my family reunited when he returned safely to Ft Bragg with the rest of his unit.
Then we brought him home. He walked through the door and when Brody saw him, he started to shake and whine with happiness. But Boo hung back and looked at me.
"That's your very own Daddy," I said.  "I told you I was bringing you a Daddy."
My husband reached out a hand. "Hi, Boo."
That's all it took. Ecstatic, she rushed into the love fest with Brody and has adored her Daddy every day since. She loves to walk with him, snuggle with him, and just generally delight in his presence. And I like to believe she loves me all the more for delivering her very own Daddy.
Live the greyhound adventure!

Learn more about what makes adopted greyhounds such wonderful forever friends with the Adopt A Greyhound Guide!
And come back tomorrow for my special tribute for the Memorial Day Blog Tour de Troops!