Writing often feels like an individual sport and writers at every stage need encouragement and support to reach their goals and realize their dreams.
Create a Healthy Writing Habit
More videos like this one with tips and encouragement for your writing life are available at my You Tube channel. Be sure to subscribe there for real-time updates.
Books to Empower Your Writing Journey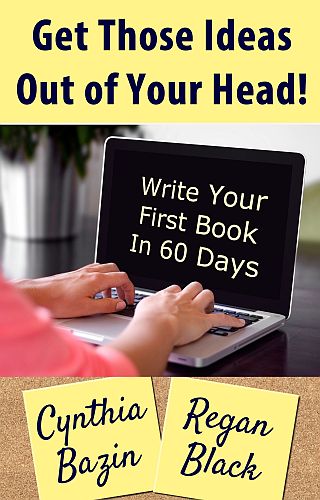 Get Those Ideas Out Of Your Head Do you have tons of ideas in your head that you know should be a book? Have you just not taken the step of writing them down? Are too many things keeping you from your goal of finishing your first book?
Cynthia Bazin and Regan Black, with over 35 years of combined experience in their fields, have teamed up to provide you with the inspiration, focus, and strategy to get your ideas out of your head and onto the page.
Available in ebook at Amazon or in paperback at Amazon or your favorite online book retailer.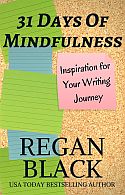 31 Days of Mindfulness:  Inspiration For Your Writing Journey Volume 1
Would it help to hear a voice of experience encouraging you in your writing efforts? Compiled and developed from the Inspiration for Your Writing Journey broadcasts on periscope.tv, this book is packed with quotes and insight to help you stay motivated and mindful about your writing life.
Available at Amazon or your favorite ebook retailer.
 31 Days of Purpose: Inspiration For Your Writing Journey Volume 2
Do you feel as if you're slogging through your writing journey without a clear sense of purpose? Would it help have an experienced voice in your ear encouraging you to stay on track with what matters most to you? With over fifteen years of experience in publishing, thirty novels and dozens of other works under my belt, I've learned how vital it is to stay focused on our core purpose of writing.
Available at Amazon or your favorite ebook retailer.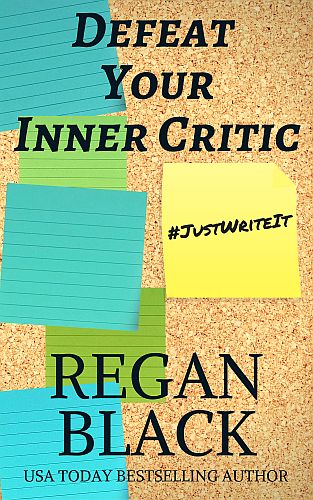 Defeat Your Inner Critic Is there a pesky, negative voice in your head telling you the writing sucks and derailing your productivity? That's the inner critic and it's time to hit the mute button! Writers often fight a silent battle with an inner voice that can be bold or sneaky, outright mean or passive-agressive. Whether your inner critic has the voice of your sugary sweet great aunt who is sure 'you'll make something of your writing hobby some day' or a scary biker-dude with ham-sized fists in a foul mood, this guide offers workable solutions to triumph over your inner critic.
Available in ebook at Amazon or your favorite ebook retailer
100×100 A Transformational Challenge
The 100×100 is a challenge I learned early in my career – at my first Romance Writers of America conference. The goal is to write at least 100 words per day, for 100 days straight. If you miss a day you start the count over. It sounds easy, but it can be tough – in the best possible way. And it is the most straightforward way I know to create a healthy writing habit.
Do you have a question about writing?
Ask me!
I've been writing for publication for over fifteen years and for the first 4 or 5 years, I sweated over all the wrong details. So many times I started and stalled out, abandoned one project for the next great idea and generally learned all the ways to not design an effective writing life.
After writing more than 35 novels…
…plus several non-fiction titles, novellas, short stories and reaching bestseller status internationally and on the USA Today list, I've learned how to create project plans and maximize my writing time in order to work smarter rather than harder!
Reach out today at black.regan@gmail.com with "write question" in the subject line and let me know how I can help you.
 …Stay tuned for updates…
Be on the lookout for more videos, books, and products coming soon to inspire, encourage, and empower your writing adventure!  Visit the non-fiction books page at any time for more options.