"A perfect blend of mystery, paranormal, and suspense to create a pleasure of a reading experience."  5/5 angels from Fallen Angles Reviews on the Shadows of Justice series
Set in the near future of 2096, each book in the Shadows of Justice series stars kick-butt alpha female heroines and swoon-worthy heroes. In a Chicago plagued by urban decay offset by pockets of gleaming wealth, characters with special gifts like healing with a touch or genetic enhancements such as telekinesis, journey through fast-paced adventures that will keep you turning pages long past your bedtime.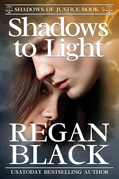 Shadows to Light
Available at Amazon
Shadows to Light, book five in the Shadows of Justice series, solves the mystery of Mira Luther, the gifted healer who has appeared in all four of the previous Shadows of Justice novels.
Readers first met Mira and Jameson in the free short story Mira's Gift (available to newsletter subscribers or at Night Owl Reviews) and Shadows to Light tells the rest of their story…
A supernatural healer, Mira escapes a trial of her peers only to be sent on an impossible mission: Rescue her scientist father from a madman who's using him to create bio-weapons. But she's no spy. On her own, with no real clues, she isn't sure where to turn.
Part of a covert task force searching for a missing government scientist, Jameson is tasked with staring at a laboratory building day in and day out. The boredom is overwhelming until Mira, a woman he cannot forget, shows up in a place she should never be.
Forced together by circumstance, Mira and Jameson enter an adventure that will push them to their limits – and quite possibly beyond.
Read an excerpt:
Reviewers have high praise Shadows to Light:
"Regan Black clearly has a talent for creating heroines who aren't afraid to kick some butt…"
Tanya C. 
"It seemed like a reasonable start and end to what should have been a five minute relationship in Mira's Gift, a short by Regan Black. Except readers clamored for more. I should know. I was one of them…Black's built another great romance into a fantastic urban fantasy adventure that includes shopping at Water Tower Place. And how many people can do that convincingly? Shadows of Light is strong as a stand-alone read, but better if you know the cast and crew from the whole series. (Plus, then you remember that we've met Mira in all the books!)"
Author Kimberly Hope 5 stars (Amazon, Goodreads)
"Ms. Black has delivered another thrilling urban adventure with all of the intrigues, humor, and passion she's known for. A stunning cast, layered plot, and imaginative universe make Shadows to Light a book you'll be unable to put down."
Jordan 5 stars (Amazon)
Available on    

Shadows to Light is preceded by Justice Incarnate (1), Invasion of Justice (2), Veil of Justice (3), and Tracking Shadows (4) and followed by the novella, In the Interest of Security.
Live the adventure!