"A perfect blend of mystery, paranormal, and suspense to create a pleasure of a reading experience."  5/5 angels from Fallen Angles Reviews on the Shadows of Justice series
Set in 2096, each book in the Shadows of Justice series stars kick-butt alpha female heroines and swoon-worthy heroes. In a Chicago plagued by urban decay offset by pockets of gleaming wealth, characters with special gifts like creating hallucinations or genetic enhancements such as telekinesis journey through fast-paced adventures that will keep you turning pages long past your bedtime.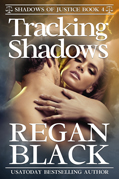 Tracking Shadows
Available at Amazon
Tracking Shadows, book four in the Shadows of Justice series, gives new meaning to star-crossed lovers…in an action-packed thriller, this novel features the notorious smuggler, Slick Micky and Trina Durham, the assassin who's been hired to take him out.
When your past becomes your future you'll find yourself Tracking Shadows:
In Chicago, Slick Micky is the king of smuggling. Known to deliver anything, anytime, anywhere, he specializes in caffeine and sugar and works in the anonymity of shadows. But recently an old enemy is tired of waiting for Micky's empire to crumble and has called in the best assassin in the business to take him out.
Trina Durham is an assassin with a sterling reputation, thanks to her unique ability to induce deadly hallucinations. When Slick Micky killed her best friend, she left Chicago – forever. She's back now, unable to resist the perfect opportunity for vengeance. But no one warned her Slick Micky might as well be a shadow. Or that shedding light on the man and his secrets would put both her heart and reputation at risk.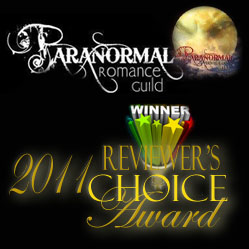 Read an excerpt:
Reviewers and readers have embraced Slick Micky's adventure:
"Tracking Shadows is a smart, sexy, and dangerous read that you won't be able to put down!"
Crystal <3
"All the elements readers have come to expect from a 2096 novel– a kick-butt alpha female lead, an equally strong hero, and a gritty, fast-paced thriller."
" …film noir atmosphere with the tinge of a science fiction…"
The Bookish Dame 5 stars (Amazon)
"Join Ms. Black for this amazing addition to a powerful series – you won't be able to put it down once you start."
Jordan 5 stars (Amazon)
"I highly recommend this book to anyone who loves futuristic urban fantasy mixed in with some good old-fashioned mushy stuff. Way to go Ms. Regan, you deserve the elusive 5 stars from me."
Penelope Adams 5/5 stars from the Paranormal Romance Guild
Available on 

Tracking Shadows is followed by Shadows to Light and the novella: In the Interest of Security 
Live the adventure!