"A perfect blend of mystery, paranormal, and suspense to create a pleasure of a reading experience." –5/5 angels from Fallen Angles Reviews on the Shadows of Justice series
Set in the near future of 2096, each book in the Shadows of Justice series stars kick-butt alpha female heroines and swoon-worthy heroes. In a Chicago plagued by urban decay offset by pockets of gleaming wealth, characters special gifts like the ability to reveal long-kept secrets or genetic enhancements such as telekinesis, journey through fast-paced adventures that will keep you turning pages long past your bedtime.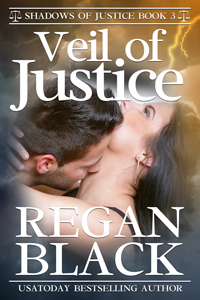 Veil of Justice
Available at Amazon
In Veil of Justice an undercover operative, a guardian of ancient secrets, and a violent goddess collide for a thrilling ride as the Shadows of Justice saga continues.
Featuring Petra's brother Nathan, and Kelly who is the one woman keeping him sane via telepathic link while he suffers in solitary confinement during a mission.
Here's an excerpt for you:
Reviewers weren't disappointed with book 3 in the Shadows of Justice series!
"Another great story by Regan Black. Not only a bang-up mystery/thriller, but a nice love story, too…story is outstanding. An overall great read!"
Kat Thompson 5 stars (Smashwords)
"Readers will relish this terrific tale that stands alone; as the Shadows of Justice series is one of the best futuristic urban fantasies on the market today."
Harriet Klausner 5 stars (Amazon)
"Veil of Justice was a great mystery-suspense thriller."
Sue L. 4 stars (Smashwords)
"This is an adult urban fantasy book with some adult language and adult love scenes but above all it's just a plain ole good action read. I enjoyed this book just as much as the first two and am now left wondering if the series will be continued and hoping it will be. I highly recommend this book to anyone who enjoys urban fantasy with some romance and mystic legends thrown in."
Lovestodive 5 stars (Amazon)
Available on   

Veil of Justice is followed by Tracking Shadows and Shadows to Light
Live the adventure!