"A perfect blend of mystery, paranormal, and suspense to create a pleasure of a reading experience." – 5/5 angels from Fallen Angles Reviews on the Shadows of Justice series
Set in the near future of 2096, each book in the Shadows of Justice series stars kick-butt alpha female heroines and swoon-worthy heroes. In a Chicago plagued by urban decay offset by pockets of gleaming wealth, characters with special gifts like empathy or genetic enhancements such as telekinesis, journey through fast-paced adventures that will keep you turning pages long past your bedtime.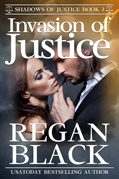 Invasion of Justice
Available at Amazon
Invasion of Justice, reunites Jaden with her only sister, Petra, who uses her mental powers of empathy to read crime scenes for law enforcement. As the current case pushes her unique ability to new limits, she has to rely on a skeptical bodyguard to keep her on the breathing side of life.
Here's an excerpt:
A few comments from readers and reviewers who have enjoyed Invasion of Justice:
"Smart, suspenseful, and sexy!"
Lisa Phillips 5 stars (Amazon)
"This book follows the theme of the first book and takes it and runs."
Lovestodive 5 stars (Amazon)
"Invasion of Justice was a grab-you-by-the-throat read! After reading Justice Incarnate (book 1 of the series) I wasn't sure whether a second book could be just as riveting, compelling and page-turning. I was happy to find that Invasion was all those things and more. I especially loved Black's use of ancient lore surrounding the city of Petra in a futuristic."
Caren 5 stars (Amazon)
"This book was a great follow-up to Black's Justice Incarnate. Great characters who deliver quite a punch! Interesting plots with twists and turns. I think everyone who enjoys an action packed adventure would love these books."
Melanie 5 stars (Amazon)
Available at

Invasion of Justice is followed by Veil of Justice, Tracking Shadows and Shadows to Light
Live the adventure!