Welcome to a dark and edgy future!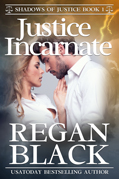 Justice Incarnate
Available at Amazon
Set in the year 2096, each book in the Shadows of Justice series stars kick-butt alpha female heroines and swoon-worthy heroes. In a Chicago plagued by urban decay offset by pockets of gleaming wealth, characters with special gifts like the ability to heal with a touch or genetic enhancements such as telekinesis journey through fast-paced adventures that will keep you turning pages long past your bedtime.
"A perfect blend of mystery, paranormal, and suspense to create a pleasure of a reading experience." —5/5 angels from Fallen Angles Reviews on the Shadows of Justice series
The Shadows of Justice series begins with Justice Incarnate:
Whoever said, "You only live once" didn't know Jaden Michaels.  In every life she's chased down a predatory demon, exacting her fatal brand of justice, only to lose her own life in the process. A millennium of effort means it's past time for her to find the weapon that will banish the demon forever. Not only must she battle to avenge the souls of the demon's victims – she must battle for the love that has always managed to slip through her grasp. 
Here's an excerpt:
Readers have been raving over this title:
"This story is beautifully thought out and even better crafted. Entertaining and fast reading, `Justice Incarnate' is the type of story a reader picks up for a book vacation, and never quite comes back."
A.T. Russell 5 stars (Amazon)
"Regan Black does a great job of creating a futuristic setting and weaving memories from other lifetimes in and out of the story to keep it moving at a fast, fun pace. But, it is her talent for setting up quick, witty dialogue and sizzling chemistry between Jaden and Brian that makes their love story such a laugh out loud, steamy delight."
Lisa Phillips (Amazon)
5 star review
"There is a great caste of characters in this book, all well written. The dialogue and action flow well and keep you interested in the story. The future depicted is believable and not too out there. I ran the gambit of emotions while reading this book, my heart broke for Jaden, I got angry at the injustice, I hoped for a happy ending and the villain was nasty enough to make me hate him and wish very bad things to happen to him. A great read, packed with action scenes, romance, mystery and humor." (read more)
Loves to Dive (Amazon) 5 star review
The Shadows of Justice series continues with Invasion of Justice, Veil of Justice, Tracking Shadows, and Shadows to Light

Live the adventure!