Welcome to the new, lighter adventures of the Matchmaker series!  It's quite a bit different from the darker, edgy adventures set in 2096. So much so, at one point we joked about using the pen name, Regan Gray. 😉 I hope you'll enjoy this lighter diversion as much as I enjoyed writing it.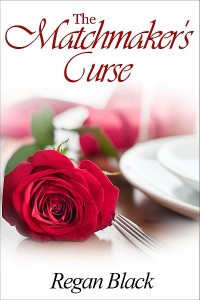 Here are a few details from the start of the series:
When you're 'more' than human, finding your soulmate isn't as easy as answering a few quesitons online. It's best to track down Campbell Consulting, a.k.a. the Matchmaker and Amy Campbell is a completely human English professor about to discover the true magic of the family business… 
Available at Amazon
In The Matchmaker's Curse, the series continues from the romantic setting of Charleston, SC with the story of the unwillingly marked and frustrated werewolf, Grant Barclay, and Maeve King, a sun dryad who has yet to discover her true power.
~~~REVIEWS~~~
"If you love romance and mystery, you'll love this paranormal romance…" -a happy Amazon reader
"In this, the second book in the series, Black blends mythical legend, Charleston's charm, and a heavy dash of romance in a recipe for the perfect pick me up read." -author Kimberly Hope
"Take one big bad wolf, mix one southern lady, and watch the fireworks!" -lovestodive
~~~EXCERPT~~~
"Excuse me." Her smooth Southern voice landed on his ears as gently as her fingertips landed on his shoulder.
He turned his head, but kept his hands on his pint. "Yeah?"
Her narrow fingers slid away and her pupils dilated. He heard her breath catch and his hunter's instincts scented the flash of fear just under her skin. When she smiled it was like flipping a switch. Her fear was trumped by something between bravado and confidence. Foolish human.
"I'm Maeve King. I believe we met a few weeks ago but I've forgotten your name."
"Grant Barclay." He gave her a terse nod and turned back to his beer.
"Thank you, Mr. Barclay. I just wanted to say hello."
He slid her a look over his shoulder. "Hello. You're the English professor, right?" Her smile didn't wobble despite his coarse manners. Interesting. She wasn't oozing that desperate come-hither vibe she'd shown previously either. "Do you teach anything else?"
That smile didn't so much as wobble. "I offer additional classes and lectures on various topics including contemporary literature influences from mythology to fairy tales to Shakespeare."
"How… entertaining." Indulging a perverse desire to test her limits, he let his gaze roam over that delicate face and lower, hesitating at the creamy swells of her breasts before coasting over the rest of her. She had a beautiful body and he didn't mind that they both knew it. This close, he could see the deep blue of the dress brought out matching flecks in her eyes. "You're here alone?"
He raised his gaze to meet hers, surprised to see genuine amusement sparkling in those lake-blue eyes. He'd expected his crude approach would send her scurrying back to her date, giving him time to do what he was supposed to be doing: search her house for Matchmaker clues.
Her throaty chuckle created a riot of dark ideas in his mind. "No. Please, forgive my intrusion. I am here with someone and I need to get back. But if I remember correctly you were in town to see Professor Campbell, right?"
"That's right."
"To save you time, I can tell you she's left town, but if there's anything me or my department can do for you, feel free to contact me at the college."
"Thank you. I might do that." He sensed the rush of delight his words gave her and raised his beer in a silent toast. The idea excited him too. She'd just invited him to spend more time with her, giving him better access to her friend and his target. "Enjoy your evening."
Ready to read more? Pick up your copy of The Matchmaker's Curse today at