Publishing, like so many local businesses and global industries, is changing. If you're a reader of paranormal romance novels, literary fiction, newspapers, or blogs you're an eyewitness to the odd blend of chaos, uncertainty, and hope that surrounds every discussion of 'the future of publishing'.
A self described alpha female who likes to write strong, willful leading ladies, uncertainty and chaos as it pertains to my career path aren't things I find soothing.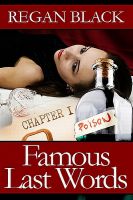 Publishing is a subjective sort of industry – one bad lunch can lead to a host of rejection letters – and while it sounds like an oxymoron,  authors and readers don't have that much control over what hits the shelves.
Traditional publishing is a hurry up and wait business. Writing, editing, submitting…waiting for rejection or contract…revisions, releases and publicity…is a rather vicious and often discouraging cycle. But now, paranormal romance writers as well as authors of every genre have another option.
At Smashwords.com Mark Coker has created an opportunity for writers to reach readers directly.
Check out the Introduction to Smashwords – Ebook Publishing and Distribution Made Easy slide show!
Through sampling, blurbs, author pages, and personal online libraries, it's a community for readers to discover new authors as well as new genres. Readers can try before they buy, they can review and recommend, and publishers and authors can get paid for their work in a timely manner.
As I've uploaded both my back list and newer works, I've become rather addicted to the independent Smashwords ebook career model: Write, edit, send to beta readers, revise, send to cover artist, then format and upload to Smashwords.com.
Smashwords offers this alpha female author a sense of control over my career, especially the timing, that I didn't have just five years ago.
Live the adventure!

Find the entire Shadows of Justice series, all the current Hobbitville stories, as well as the ever popular (and FREE) Famous Last Words ghost story when you visit Smashwords.com