The Sharing My Favorite Book blog hop is going strong – thanks to everyone who's already entered. If you haven't started hopping with this one, get busy because there are tons of great books being offered as prizes by authors and bloggers! This blog hop closes on June 30, so don't delay! Just click on the blog hop badge to jump to the entry form.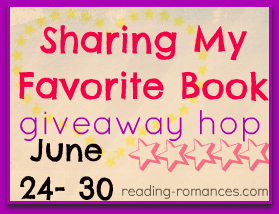 By offering the winner a choice of their favorite Regan Black book, I sorta copped out of stating which book is my personal favorite. That's such a tough question for a book lover like me to answer. But after hopping around and seeing what the other bloggers and authors were presenting with this event, I returned to my keeper shelf and made myself come up with an answer.
First, my fave of the books I've written: I love all of the books in the Shadows of Justice series, but my favorite is probably Tracking Shadows. There's something about the way that book came together in the writing and the chemistry between Slick Micky and Trina that just sticks with me.
Second, my fave book that I've read… I tried to narrow it down to books I've read this year. Then I tried to narrow it down to one category. Or by mood. I've discovered I don't have just one favorite book by any of those criteria. So to spotlight one of my many favorite books, I'll declare (for the purposes of this blog hop) Love in the Afternoon by Lisa Kleypas. I guess it's the soldier and the letters. And the heroine's unique perspective. Whatever it is, I keep coming back to it, so today, that's my favorite book. 😉
Of course the Summer Fun web hunt, organized by the fantastic Night Owl Reviews site runs through July 15! This is the best kind of online scavenger hunt! You'll discover so many wonderful authors and sooo many prizes from books to gift cards to jewelry and more!!! (Here's a tip, you can find an answer to one of the web hunt questions on one of the pages on this site).
And the Summer Romance Festival kicked off June 25th! Sponsored by fReado.com you'll find all sorts of book prizes any reader would love to claim! The Matchmaker's Mark is just one of hundreds of books and prizes available! There are several ways to win – fReado.com is a great site.
So what are you waiting for? Your next favorite book is out there waiting to be discovered!
Live the adventure,