HAPPY NEW YEAR! I am so excited about the writing and book releases already on the 2016 schedule and the surprises in store for all of us! 2015 really lived up to my word of the year – full of joy! We wrapped up the year in that joyful spirit, celebrating Christmas and New Year's with game nights and a Star Wars movie marathon with our kids who are both home for the long break.
Maintaining the 'word of the year' tradition I learned from my friend, Holly Jacobs, in 2016 I will focus on "growth". It's a daily reminder for me while I'm growing into new story worlds and growing with every new writing project. I can't wait to share it all with you in the months ahead!
Top 5 Things I'm Looking Forward To In January! (in no particular order)
Clemson vs. Alabama in the college football championship game.
Receiving the books for judging the RWA Rita awards for published authors. It's my first year as a preilminary judge and I'm excited!
Researching two new fictional adventures.
Brilliant Daughter's cooking – it's always a tasty experience for all of us when she's home.
My new non-fiction release: 10 Tips to Make Your Writing Time More Productive.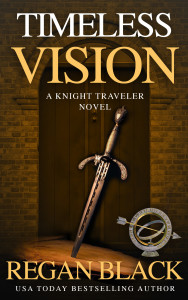 What's new? Timeless Vision – and I'm thrilled readers are enjoying this adventure!
In the sixth century, Sir Gawain volunteered without hesitation when King Arthur asked him to contain a witch with terrible power. Now, his quest has pitched him through time to 21st century New York City and he must fulfill his original pledge to his king to stop an evil cult bent on enslaving humanity.
Recently promoted, Tara O'Malley is responsible for the family pub in Brooklyn, the family finances, and the safety of a medieval dagger that has been handed down for generations. When the dagger is stolen, she soon discovers her best hope to recover it rests on the broad shoulders of a golden stranger who seems to have stepped right out of a renaissance fair.
Together Gawain and Tara must overcome the myths of the past to safeguard humanity and any chance they might have for a future.
And be sure to enter the Goodreads giveaway for your chance to win a signed copy of Timeless Vision! (see the side bar for the entry link)
Wishing you all the best in 2016!
Live the adventure!