Welcome to 2013! I hope your celebrations were grand, safe, and full of fun. Around here we packed away the Christmas decor, watched some football, had a movie marathon and otherwise enjoyed a quiet celebration full of the blessings of being together as a family. With a champagne toast at midnight, of course!
And as an added blessing, my family and friends helped me celebrate the win in the Novella category of the Paranormal Romance Guild's 2012 Reviewer's Choice Awards. Many, many thanks to the readers, writers, and reviewers who voted for their favorite books and made this year's awards such a wonderful experience!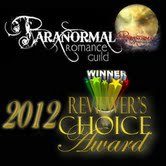 (Isn't the graphic pretty?) In The Interest of Security, the latest 2096 novella will be available in just a few days as part of the Mammoth Book of Futuristic Romance!
Click here for the 5-star review from the Paranormal Romance Guild!
And it was fabulous to see the Shadows of Justice series take 2nd place in the best paranormal series of 2012! Congratulations to Melanie Nowak who won that category with her Almost Human series!
Most likely you've seen your share of posts and articles around the web on what to expect in 2013 and all I can say is there is much to look forward to!
New story ideas are coming together, my to-be-read list is growing, and the fun with various bloggers and blog hop events kicks off on January 3rd. I hope you'll stay tuned and always…
Live the adventure!