Happy Holidays to your house from ours!
Our season started off right with a house full of family over Thanksgiving. Both kids were home, along with the daughter's wonderful fiancé and we had extended family here too. Despite the occasional near-chaos with three dogs in the house, we even managed to squeeze everyone into the dining room for the main meal on Thursday (yes the dogs too).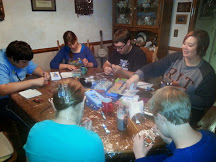 The food was amazing from a perfectly prepared turkey and mashed potatoes (my husband's handiwork) to a stunning French apple pie (courtesy of Kathleen, baker extraordinaire).
We played all sorts of fun games (it's so much fun having two game development majors in the family), did the movie thing (Big Hero 6) and even had a family craft night to kick off the Christmas decorating.
Thanks to the kids, our tree is up and the porch is decorated. The husband and I will dig out the rest of the decorations this weekend.
The entire holiday break was a team effort from start to finish – the best way to go. I have so many things to be thankful for every day of the year, not the least of which is the endless support of my beautiful family and friends.
Whatever your traditions, I hope your holiday season is full of blessings.
Congratulations to Nikki M, winner of the November prize package and to Carol and Victor, winners of the $5 gift cards!

If you're subscribed to the Join the Adventure newsletter, keep an eye out for the December prize package post next week and look for book release alerts for Against the Wall and Too Far Gone, coming soon.
Live the adventure!