As March winds down (where did the time go???) and with so much going on here at the website lately, I wanted to have a bit of a catch up day and make sure you haven't missed anything…
There's the guest post from author Beth Trissel and today is the last day to qualify to win her wonderful paranormal romance, Somewhere My Love! Paranormal romance fans, you will want this book! It was wonderful to have Beth here and I hope you'll go to her post right now and leave her a comment so you're qualified for that giveaway.
Of course the Reading Romances Pre-Party blog hop is still partying-on! The comments from so many of you have really brightened my day for several days running now. Thanks so much. When you click over to that post, you'll see the prizes available here, as well as the full list of participating blogs – be sure you get qualified for all the prizes you want! Winners for this event will be notified and posted on March 29th!
ReadingRomances.com is also the host of the 2012 reading challenge! If you love to read – paranormal romance novels or any other genre – be sure to join us. There are great discussions, book recommendations, reviews, and … prizes!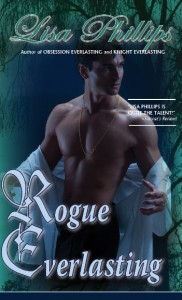 Which brings us to a bit of 'new business'.
Look for my March reading challenge result post on the 31st. I read Mind Reader by Vicki Hinze and had posted my hope of catching up on the Karen Hawkins Hurst amulet series. No spoilers here, you'll have to check back to see how I did and what I thought.
And mark your calendars as April starts off with a thrill by way of a visit with Jason Baca, the ever-so-swoon worthy romance novel cover model!
On April 3rd we'll have an interview and a chance for visitors to win a signed photo of Jason. I've really enjoyed getting acquainted with him through this interview and I think you'll enjoy it too. (Hey, everyone knows a little eye candy is good for you!) In case you weren't sure, that's Jason on the cover of Rogue Everlasting by Lisa Phillips!
Caroline Clemmons will be my guest here on April 5th. She recently featured The Matchmaker's Mark on her blog and I'm looking forward to having her join the fun here next week.