My urban fantasy and paranormal romance books feature strong kick-butt, alpha female heroines and I draw inspiration for those characters from people, events, my imagination, and my fears of how the world would crumble without strong women to lean on.
Women have stepped into the gap since the dawn of time to take care of things – big and small – that needed handled. But sometimes the best inspiration is simply a matter of looking into the mirror. Sometimes the hero women need above all others is right there inside themselves.
Now this might sound like a silly example, but recently we went car shopping. Mainly because I'd miraculously dodged a bullet when my husband's car had some trouble recently. I know enough about cars that I handled the situation, but the end result was his car was making me nervous.
More importantly, if something bad happened and I needed to make an executive decision about a new car in his absence, I wanted him to feel like he'd been part of the process.  (years of experience taught me that much!) Understanding my reasoning, we headed out to see what was available.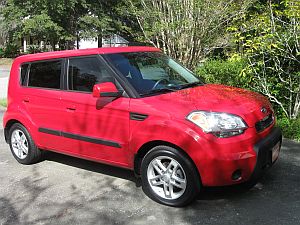 After looking at several makes and models, him determined not to make a purchase, me respecting his relentless logic, on a whim I asked to sit in a Kia Soul.
Let me tell you, my poor back sang the Hallelujah Chorus as I slid behind the wheel. Then we discovered the wheelchair fit perfectly.
I looked over at my husband and though he tried to resist, I think he knew he was sunk. His car's a stick and though I don't have to drive too often, it was making things worse on my back.
We talked. And talked. Any debate really centered around timing. He thought it was best to wait until his car went belly up, rather than do anything right away. It made sense. We've been years without a car payment and I wasn't too thrilled about having one now.
But I knew what needed to happen. I knew what the budget looked like better than he did (he's been training out of town and was a bit out of touch). When the dealership came back with a completely 'do-able' number on a 'previously enjoyed' Soul, I stepped up, presented my case, and became my own hero.
It's not like any of the female heroines I write would let a little thing like timing stop them from getting what they need!
And don't get me wrong. I consider my husband all kinds of heroic. He's good as gold! I am completely blessed and loved beyond measure. We make an excellent team, but I knew what I needed to feel confident and safe (both on the road and physically) when he's not around day in and day out to help me.
Car shopping might seem like a frivolous example, but the point is when you're stuck – on something big or small – sometimes the best, most heroic answer is inside you, waiting to burst out and save you like a knight charging into the fray on a white stallion.
Live the adventure!