It's here!
Regan Black's Bulletproof, kicks off the Unknown Identities series!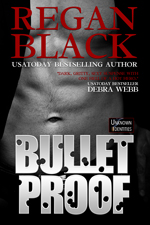 What a thrill to offer readers and fans this brand new, dark romantic suspense adventure!!
A soldier is nothing without his honor. To avoid a dishonorable end to his decorated military career, John Noble gave up his name, endured harrowing training, and accepted every mission thrown at him for one purpose: redemption.
"Dark, gritty, sexy suspense with one hell of a hot hero." -USAToday bestseller Debra Webb
______________________________________________________________________________________